Wide-format Printing: How to choose a UV flatbed printer
January 6, 2013
By Peter Saunders
Wide-format ultraviolet-curing (UV-curing) flatbed printers represent one of the fastest-growing segments of the graphics industry. Given the scale of the investment, it is important for signmakers to choose the right type of equipment, both for today and for the future. It can be difficult, however, to make the right choice between all of the models currently available.
Some sign shops already produce large-format digitally printed graphics, while others seek to add flatbed capabilities to their existing screenprinting, offset, packaging and/or other in-house production processes. To select the most suitable model for their business, they will need to make sense first of the complexities of UV flatbed printing technology.
The capital cost of a UV printer, which is usually amortized over several years, is only one of the criteria to consider when calculating the machine's total cost of ownership (TCO). The following factors also need to be counted:
Inks, lamps, electricity and other consumables, based on the printer's rate of consumption.
Parts and service.
Labour (i.e. printer operation).
Print finishing.
Costs related to floor space used up by the printer and its work area.
The printer's earning potential, based on its estimated production volume.
Understanding a digital printer's TCO is essential before a sign shop can sell its graphic output profitably. The calculation must balance the potential to produce as much revenue as possible from a single machine with the maximum physical space that can be allotted within the production department. Printer manufacturers should provide real-world models for their products' return on investment (ROI).
System designs
For flatbed printing, there are basically two system designs: 'moving media' and 'true flatbed.'
Moving media
In a 'moving media' machine, the printing zone is stationary and, as the descriptor suggests, the substrate is moved through it, just like with a roll-to-roll printer. With no moving gantry, it is very important for the media to be moved through the printer accurately, for the duration of the printing process.
This design concept is found among 'hybrid' printers, which are often designed primarily for roll-based media, but can also support some rigid media after being fitted with removable tables and/or a belt drive system. These features allow rigid media to be transported through a stationary printing area.
This format allows printer manufacturers to add rigid-media functionality at a relatively low capital cost. The other advantage for sign shops is 'two-in-one' printing, as the same device can be used to print on both flexible and rigid media.
There are also disadvantages, however, to hybrid machines. The motion of the media can result in the misfeeding or skewing of the image, so the operator may need to intervene. Also, belt-drive systems or pinch rollers may leave marks on the print—and often require the drive system to be cleaned between prints to remove any excess ink.
Further, hybrid presses can only print on relatively light rigid media, with at least one 90-degree angle, because a corner is required to start feeding the material through the printer. Unless a customized jig is added to hold pieces in position, a hybrid press will be poor at printing on non-square or otherwise irregularly shaped items, heavy substrates and materials with an uneven surface, such as framed canvas or plywood.
True flatbed
A true flatbed printer, on the other hand, holds the substrate stationary on a vacuum table while the printing system—including the printhead carriage and gantry—moves over and across it, for the duration of the print cycle. The process is similar to screenprinting and helps ensure there is no unintentional movement of the media.
With the media held stationary through physical registration, print quality can be better optimized. Productivity is also increased through accurate, repeatable, bidirectional alignment of the piezoelectric printheads. And edge-to-edge (i.e. 'full bleed') printing can help reduce finishing time, as no further trimming or cutting will be required.
Double-sided prints can be handled with sufficient registration and large displays can be tiled across several boards in perfect alignment, for subsequent assembly with no discernible gaps due to skewing.
Further, multiple boards can be simultaneously printed when placed on the same vacuum table. This is particularly beneficial when producing large quantities of small signs, such as point-of-purchase (POP) graphics.
Printhead technologies
[4]Printhead technologies In the past, inkjet printhead manufacturers developed six-colour technology, comprising cyan, light cyan, magenta, light magenta, yellow and key/black (CcMmYK) inks. Also known as 'super-
CMYK,' this ink set substitutes the lighter hues in a graphic's highlights and quarter-tones.
This technique of tonal substitution was developed to address the inherent visual graininess of large-droplet, fixed-dot inkjet printing. The addition of the lighter colours helped create smoother, less grainy quarter- and mid-tones and gradients. Though expensive and complicated, this method became a standard over time for inkjet printers from nearly all manufacturers.
Later, progress in piezoelectric inkjet technology allowed manufacturers to start using greyscale printheads instead, which could create variable dots by jetting ink droplets in variable sizes. Rather than follow the super-CMYK model, these printheads achieve sharp images with smooth gradients by placing smaller droplets closer together, while jetting larger droplets elsewhere to create uniform, solid colours. By varying droplet sizes, digitally printed images can approach photographic quality.
Inks
Ink costs should not be measured simply by the price per litre. The quantity of ink used per print must also be calculated. Together, these figures can provide accurate projected costs per square metre of graphics.
There is a common misconception that UV-curable inks are more expensive than solvent-based inks. While they do cost more on a volume basis, they provide a significantly greater yield per litre.
This is because solvent-based inks mostly comprise the solvent itself, with relatively little pigment. The solvent, which is volatile, evaporates during drying, leaving the pigment on the media.
UV-curable inks do not evaporate. Instead, they cure during their exposure to intense UV light. As a consequence, much less ink is jetted per square metre of the media, compared to solvent-based inks.
There is a hidden cost when ink is wasted during routine maintenance of the printhead nozzles. To clear any blockages of these nozzles, a 'purging' process forces ink through them. Some printers purge all ink colours, regardless of which ones need it, and some purge automatically, without any operator instruction, which can quickly add up to significant ink costs. It is more ideal when the printer allows its operator to choose which colours of ink to purge and when.
The need for in-line white ink is generally limited to specialty applications, given most substrates are already white when purchased. Such specialty applications may include fabrics, packaging and building materials, as well as clear substrates for window graphics, backlit signage and mirror decals. Another option for backlit graphics, which may prove less expensive, is to apply a white adhesive vinyl diffuser or floodcoat manually.
RIPs
The raster image processor (RIP) is another essential component in a flatbed workflow. Basically, it translates the code behind a digital graphic into a language the printer will understand, converting each pixel or vector co-ordinate into an ink droplet.
The RIP can also process colour information from the file, which enables colour management throughout the process, using International Color Consortium (ICC) profiles to match colours all the way from a digital camera to image editing software to printed graphic. Some RIPs integrate Pantone's library for spot colour matching, including support for white ink.
When accepting and directing jobs to the printer, a RIP allows users to intercept and edit images before printing, as well as archiving files for future use. RIPs can also support finishing, including the digital cutting of flexible or rigid substrates.
Some printer manufacturers specify one RIP to work with their machine. A generic RIP, on the other hand, may support all of the printers within the production department.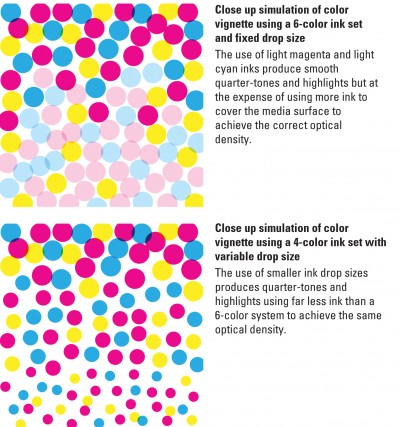 [6]
Curing technologies
UV-curable inks are turned from liquid to solid by high-intensity UV light. Specifically, chemical photo-initiators within the ink react to the light, setting off a polymerization of the ink, all in less than a second.
Most printers use mercury vapour lamps as their UV light sources, which offer a broad spectral range, with multiple peaks of energy. The inks are formulated to react to these peaks, which together are sufficient to initiate curing.
Another new, promising technology used in some flatbed printers is the UV light-emitting diode (UV-LED). It produces light with less heat as a byproduct, so it is more suitable for curing inks on heat-sensitive media.
UV-LEDs offer a much narrower spectrum than mercury vapour lamps, with fewer peaks of energy. So, inks must be carefully formulated to react efficiently. This can result in ink sets with a much smaller colour gamut.
Also, the lower power and more specific wavelengths of UV-LED systems can result in less complete ink curing in the printing zone, so some manufacturers have added secondary, off-line curing systems to their printers.
Mercury vapour lamps are well-established and entail lower component costs, but in addition to generating more heat, they consume more electricity per square metre of cured output. They need to be warmed up for 30 to 60 seconds after being switched on until they reach optimal intensity. And mechanical shutters are required to switch the light on and off. Further, while the lamps are inexpensive, they will need to be replaced every 500 to 1,000 hours of operation.
UV-LEDs are more expensive, but typically reduce power consumption by 50 to 75 per cent. They do not require any warm-up time and can be switched on and off in milliseconds, without needing mechanical shutters. They can last for thousands of hours, though they are usually mounted in arrays that are very expensive to service if they run into a problem.
Power consumption
Electricity prices are on the rise. When considering a flatbed printer, it is important to check the required wattage and amperage, including the printer's maximum sustained load. Ideally, it should use less than 3,500 W of peak power—and single-phase power, rather than the more energy-hungry three-phase option. And it is worthwhile to check whether or not the printer is designed to remain powered on at all times.
Physical environment
When considering printer size and space requirements, it is important to ensure the machine can be moved into its intended installation location, preferably without having to remove existing walls or windows. A particularly heavy printer—or one assembled from components—might need a rigid floor (e.g. concrete) for installation.
As mentioned, a true flatbed is generally larger than a hybrid printer, but does not need additional media handling space. Belt/pinch systems, on the other hand, require a board's length on each side of the printer for media transport. This can mean up to 5.9 m2 (64 sf) of extra space needed.
Service and support
As a valuable business tool, a UV printer needs to stay in top condition. This calls for knowledgeable support for the—hopefully rare—instances when it does not work properly.
Indeed, choosing the right service and support team is just as important as choosing the right printer, whether the technicians are employed by the printer's manufacturer, a local reseller or a third-party service organization.
Support goes beyond service. A printer vendor will ideally provide assistance not only for its own machine, but also for the aspects of production related to it, including file setup, workflow software, colour management and substrate selection.
Other important factors include the length of the warranty period, what it covers, the standard response time for a service call, 'second-level' support if there is a delay in repairs, supply chain logistics for replacement parts and options for self-servicing the printer.
With files from Océ Display Graphics Systems, a Canon Group company. For more information, visit www.oce.ca[8].
Endnotes:
[Image]: http://www.signmedia.ca/wp-content/uploads/2014/02/TestPrintCloseUp.jpg
[Image]: http://www.signmedia.ca/wp-content/uploads/2014/02/Hybrid.jpg
[Image]: http://www.signmedia.ca/wp-content/uploads/2014/02/Flatbed.jpg
[Image]: http://www.signmedia.ca/wp-content/uploads/2014/02/Jelmoli4.jpg
[Image]: http://www.signmedia.ca/wp-content/uploads/2014/02/Plugged-Nozzles.jpg
[Image]: http://www.signmedia.ca/wp-content/uploads/2014/02/46color-example.jpg
[Image]: http://www.signmedia.ca/wp-content/uploads/2014/02/Stars_Circles_White_Ink_L.jpg
www.oce.ca: http://www.oce.ca
Source URL: https://www.signmedia.ca/how-to-choose-a-uv-flatbed-printer/
---