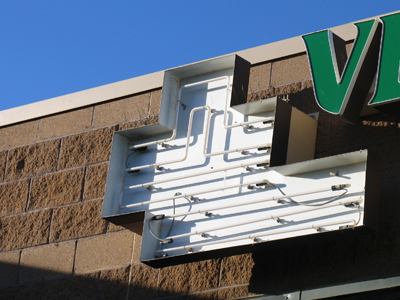 By John Baylis
Too many companies today are advertising their way out of business with low-quality signage. Unfortunately, their owners do not seem to realize the highly negative impact such signs can cause.
A recent, large-scale study conducted by James J. Kellaris, the Gemini chair of signage and visual marketing of the Linder College of Business at the University of Cincinnati (UC) helped to illustrate the substantial importance of high-quality signage to a customer-facing business. The study found consumers frequently infer the quality of a business from the quality of its signage—e.g. its state of repair (see examples, pictured)—and that perception often affects their buying decisions.
Indeed, the initial quality inference often determines whether or not the consumer will enter the place of business for his/her first time. Consistently attracting new foot traffic is critically important for the profitability of retail stores, among other types of businesses.
In the context of the study, 'quality' refers not only to the physical condition of a sign, but also its overall design and utility. Legibility, for example, is an important element in consumers' perception of quality, with 81.5 per cent of participants in the study reporting frustration and annoyance when sign text is too small to read.
T
he study also found 85.7 per cent of respondents agreeing, "signage can convey the personality and character of a business," and 35.8 per cent have been drawn into an unfamiliar store because of the quality of its signage. If a business can lose half of that potential new foot traffic due to low-quality signage, as the study suggests, then the lost sales revenue could become a fast track to bankruptcy.
The idea that a business could advertise itself right out of business may seem implausible, but current industry research suggests it can happen.
John Baylis is marketing director for Direct Sign Wholesale, which manufactures channel letters for sign shops across North America. For more information, contact him at jb@directsignwholesale.com.