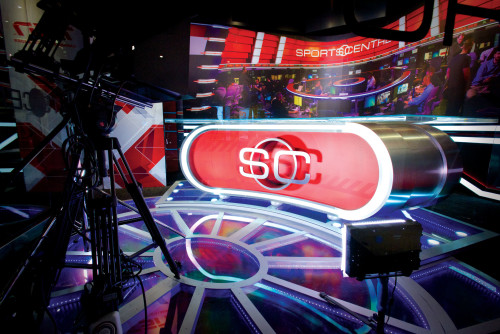 Toronto-based Holman, known for creating exhibits for museums and trade shows, recently built and installed a replica of the set of The Sports Network's (TSN's) daily SportsCentre news show for the Hockey Hall of Fame.
Holman worked with Terry Heard Designers on the project, understanding the replica would need to stand up to a lot of wear and tear in the popular downtown Toronto tourist attraction. The exhibit gives visitors a chance to test their sports broadcasting skills in front of a camera and teleprompter.
The 'studio' is the most recent of a series of new interactive exhibits within the museum's TSN/RDS Broadcast Zone, one of 15 exhibit areas within a 5,600-m2 (60,000-sf) space at a former Bank of Montreal (BMO) building, part of Brookfield Place.
The exhibit is illuminated with light-emitting diodes (LEDs) to look like the real thing, while graphics applied to a curved back wall create the illusion of studio activity in the background. The performances of visitors—including many children—are recorded by a Cisco GameCam video system, which prompts them to download and share their clips online.
Holman built and installed each of the exhibit's elements—including the desk, ceiling, raised acrylic flooring and overhead lighting—to replicate the real TSN SportsCentre studio, thereby giving visitors as authentic an experience as possible.