By Jeff Stutt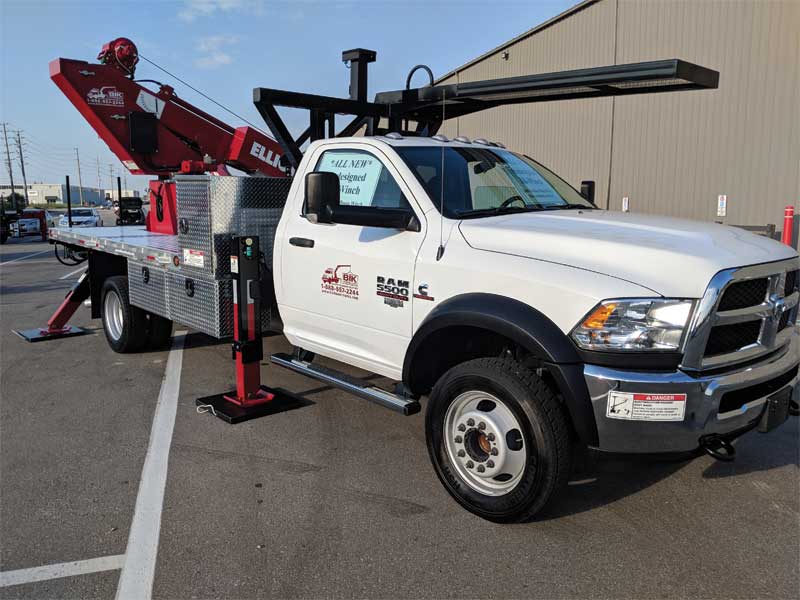 In the early days of modern signmaking, installers would use ropes, pulley systems, lifts, and ladders to accomplish various aerial jobs. However, over the years, the use of sign trucks has made it easier for industry operators to take their sign businesses to great heights. These machines are both mobile and versatile, and have made it easier for installers to work seamlessly—even in hard-to-reach areas.
Buying a sign truck is a significant investment that requires a great deal of thought. Whether a company is looking to enhance the reach of its installation business or expand its overall services, here are six factors for sign shop owners/managers to consider before making a purchase.
Aerial needs
If a sign installer finds that an 18-m (60-ft) boom reach allows him/her to complete most of their projects and feels this equipment fulfils their needs, than he/she has selected the right truck. However, if a sign installer spends $25,000 a year renting cranes to compensate for the lack of a 26-m (85-ft) reach boom it would make more sense to buy this equipment to eliminate the rental costs, as the monthly payment would be half as much.
Ease of operation
Many people across various industries have likely heard the acronym 'K.I.S.S.' once or twice in his/her life. For those who have not, it stands for 'Keep it simple stupid.' Many manufacturers try to engineer and design things to be super modern; however, in this industry's line of work, it is always best to stick to the basics.
Stability, reliability, and smooth operation are the three most important aspects when looking for ease of operation. Do not get fooled by gimmicks. Simple and easy-to-use controls and baskets that can be rotated into place without jerking are extremely critical for workers to feel safe when installing a sign 26 m (85-ft) off the ground.
Helpful attachments
A sign installation truck is like a Swiss Army knife. Different attachments can be used to save an installer time and money. For instance, on some trucks a digger derrick can be added to alleviate the need for a second truck or having to wait for a contractor.
Some sign trucks also come with a main winch. This accessory eliminates the need for a second truck and allows an installer to set the pylons.
Others even have jib winches which enable installers to stay positioned while lifting channel letters or other sign components into position.
Safety features
Many industry veterans have told this author some harrowing sign installation experiences from yesteryear, including one man who managed to hang 24 m (80 ft) over the street with no safety harness and successfully installed a sign.
Times have changed, however. Today's sign installation trucks are loaded with safety features. For instance, they are available in various lengths to help installers meet the demands of each job safely, and if the truck's outriggers are not extended properly, the crane will not operate.
Outriggers keep the truck balanced and prevent it from moving. This gives installers a sense of security and allows them to operate in confidence when they are 26 m (85 ft) in the air putting up a sign.
Finally, another important safety feature which is incredibly valuable is the truck cannot be driven if the boom is not stowed properly.
Chassis design
A sign installation truck has to be mounted to a chassis, which is an integral component to these vehicles. Some dealers offer one-stop shopping that takes the guesswork and worry out of purchasing the proper truck for an installer's particular needs. If not, this author recommends asking a boom truck dealer before settling on a chassis from a dealership.
Most of the time they have little or no experience building a boom truck that is specific to a sign installer's needs. Therefore, it is important to consult with an industry professional to save time and money.
Transmissions
The three most important things about buying real estate is location, location, location. The same principle can be applied to a sign installation truck's transmission: automatic, automatic, automatic.
Whether a boom truck is being built with an 8845 kg (19,500 lbs) or a 39,916 kg (88,000 lbs) gross vehicle weight rating (GVWR), this author recommends always choosing an automatic transmission. The GVWR includes the vehicle's chassis, body, engine, engine fluids, fuel, accessories, driver, passengers, and cargo.
With the advent of automated transmissions, almost 95 per cent of the boom trucks this author's company sells are equipped with this type of transmission. The advantages of choosing an automatic transmission include: saving on maintenance, as well as lessening driver fatigue, accidents, and downtime.
Bottom line
It is critical for sign installers who are looking to purchase a boom truck for his/her company go to a dealership that has specific industry knowledge. A specialized dealership will know the right questions to ask, as well as provide proper answers to ensure a sign installer gets the appropriate boom truck that meets his/her project requirements.
By considering these six factors when purchasing a boom truck, a sign installer has a better chance at selecting the right equipment for his/her company.
Jeff Stutt has more than 29 years of industry-related business experience. He has built and repaired cranes, and has driven trucks across North America. Stutt worked in new and used truck sales before transitioning into the boom truck industry more than 19 years ago. Along the way, he has helped numerous companies find the best solutions for delivering and unloading their products. He can be reached via e-mail at jeff@bikboomtrucks.com.