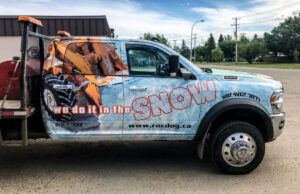 By Ginny Mumm
As the economy begins to right itself, demand for vehicle wraps—both personal and commercial—has never been stronger. Offering more design and finish options than a paint job, vinyl wrap is overtaking the market as the favoured medium for corporate advertising. In addition, vehicle wraps provide consumers with an affordable way to show off their personal brand, or simply change the colour of their vehicle. Print shops across Canada are seeing an increase in requests for everything from a simple chrome delete to fully designed graphic wraps.
We talked with Roxanne and Albert Peters, owners of Autoexotic Trim and Signs in Grande Prairie, Alta., about the growth they've seen over the years in the vehicle wrap and graphics market, and how they help clients choose the best option for their business or personal vehicle.
All in the family
The Peters' purchased Autoexotic in 2001, and have used the versatility of vinyl to grow their business to include decals, paint protection, vehicle graphics and wraps, pin striping, fleet branding, tank wraps, signs, banners, magnets, sandwich signs, interior and exterior signage, and window and wall graphics. They also provide some print-and-ship work, typically for existing clients.
Located in downtown Grand Prairie, the shop has been in its choice location since 2000. Autoexotic shares a strip mall building with one other business. Autoexotic's production area, front office and two vehicle bays fit comfortably inside the approximately 3,000-sf facility. Roxanne is the office manager and handles inside sales, design and installation, and shares some of the production duties. Albert is the sales manager, handling outside sales, customer service, designing and installing, and any removal jobs that are needed. Allison Nurcombe-Richardson has been with the shop for 16 years and is the production manager, as well as helping out with inside and outside sales, and installations. Shelby Peters Friesen has been working with her parents full-time for four years as an installer and is learning to do more of the design work as well as customer service.
Like many shops, Autoexotic experienced some ups and downs in sales throughout the past 18 months, however, business has been booming since spring of this year. With the economy picking back up, many of their clients began refreshing or even expanding their fleets.
Production technology that powers growth
Autoexotic's production room is anchored by their Roland DG TrueVIS VG2-540 wide-format printer/cutter, along with a Roland DG GR-540 large-format vinyl cutter. "We've always relied on Roland DG print technology for the quality of the production," said Albert. "The new VG2 has a wider overall colour gamut that helps us match more colours more closely. We're also running the orange ink, which comes in handy for our construction and oil and gas industry clients. The printer's output is vibrant and precise, and the fast drying time helps us meet our deadlines."