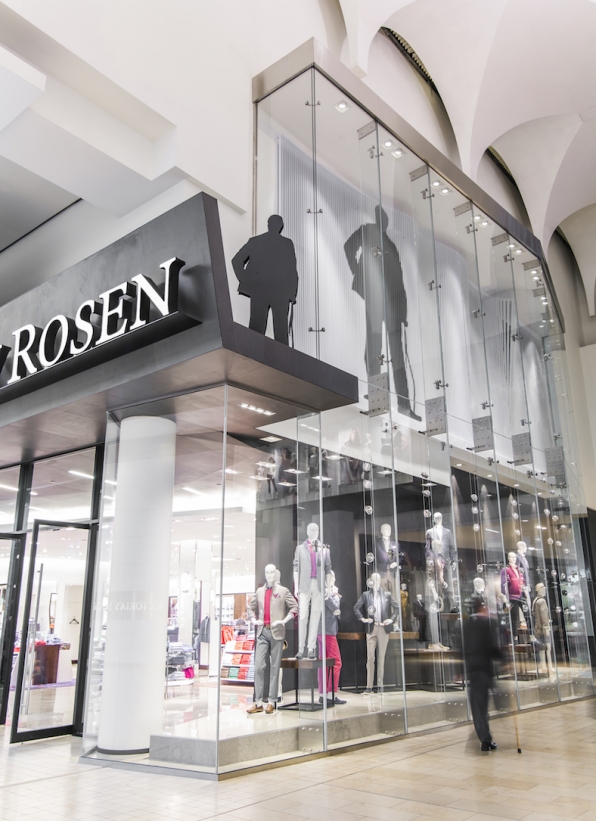 Toronto-based Eventscape won 'best in show' in Sign Media Canada's 2015 National Sign Competition with the sculptural window feature it built for a Harry Rosen clothing store at Yorkdale Shopping Centre.
A recent expansion of the location created the opportunity for the unique storefront signage. After being brought in by MMC International Architects to work directly with the retailer, Eventscape engineered, fabricated and installed the 4.9 x 10.7-m (16 x 35-ft) lenticular-style metallic and graphic elements for the store.
These elements included a sheet-metal silhouette of the retailer's eponymous founder, which was powdercoated grey and mounted at the front corner of one of the storefront's windows; 220 individual 51-mm (2-in.) wide aluminum fins, which were installed using a custom laser-cut U-bolt tensioning system and flared out to resemble flowing fabric; a grey vinyl graphic applied to the fins to simulate the silhouette's shadow; and a digitally printed store logo (see video).
Inside the store, meanwhile, Eventscape set eight internally illuminated acrylic light cubes into the ceiling. Carrying on the exterior motif, each of these 1.2 x 1.2 x 0.3-m (4 x 4 x 1-ft) lights was framed with powdercoated metal.
The project was completed in April 2014. Accepting the National Sign Competition's grand prize, Eventscape president Gareth Brennan will be flown to the Specialty Graphic Imaging Association (SGIA) Expo this fall in Atlanta, Ga.