By Peter Saunders
Digital signage is reaching venues of all types, from government buildings to hotels, from post-secondary schools to corner stores. As the medium becomes more mainstream, the most successful deployments have involved organizations finding ways to match the technology's benefits to their specific needs.
Willingdon Church, for example, is a multiple-venue place of worship in Burnaby, B.C., that is using the Audience software platform from Capital Networks in Markham, Ont., to operate a new digital signage network in its lobby. Matrix Video Communications, a Burnaby-based reseller, installed both software and hardware and is now providing ongoing technical support.
Following a 30-day evaluation period, the first phase of the network's physical deployment comprises 11 flat-panel displays installed throughout the lobby in landscape and portrait modes, showcasing a variety of messages welcoming visitors and members and promoting upcoming events. Church personnel, meanwhile, are using the software to create and manage this content, as well as automating the display of daily room schedules.
"The church deployed the premise-based model and maintains complete control of all content creation and scheduling," explains Blake A. Reeves, Capital Networks' North American channel manager. "The software provides centralized messaging management, allowing for multiple-screen co-ordination, as well as unique messages on targeted screens. In other words, it delivers the right message to the right screen or screens at the right time."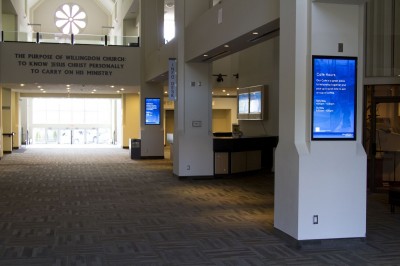 Getting the messages right is very important. More than 4,000 members attend Willingdon's weekend services, which are translated simultaneously into 10 languages, reflecting the city's cultural diversity.
The church also operates a fine arts academy, providing musical training to the community, and hosts a variety of weekly sermons, worship services, concerts and other musical events in a pair of halls, including a 1,300-seat sanctuary.
"It is a large site with many meetings," says Reeves. "They needed improved communications in multiple languages, explaining what is happening both now and later."
Future plans for the installation include live streaming video footage from the main auditorium, new menu boards in the café and the integration of the network with the facility's emergency messaging system.
"The church has chosen playback licensing that is capable of sub-second response times if required, which includes emergency messaging compliance," Reeves says.