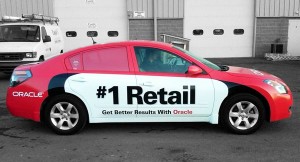 Vehicle wraps, which have proven themselves an excellent form of outdoor advertising, rely on modern digital inkjet printing and skilled installers, but the most important part of the process may be the creation of the design.
JMR Graphics, a 3M-certified manufacturer of commercial vehicle wraps, offers the following four tips for the design phase:
1. Beware of space.
While a computer screen on which wrap graphics are designed is two-dimensional (2-D), the vehicle itself is of course three-dimensional (3-D). So, it is important to be mindful of all of the nooks and crannies of the vehicle—such as door handles—that will affect how the image appears after it has been applied.
 2. Be bold.
Large, bold graphics are more certain to grab the attention of onlookers. As long as they appear sufficiently professional and proper to the client, do not shy away from dynamic designs.
 3. Add a pop of colour.
On a similar note, plain designs typically do not attract the most attention, so it is advisable to add some 'fun' with bursts of colour, taking advantage of the capabilities of vinyl graphics to show off creative, unique brand images to the public.
 4. Don't overcrowd the vehicle.
While a dynamic design is desirable, it is also important to beware of including too many images or words or images on the vehicle, which could overwhelm viewers and cause them to lost interest. Better to use negative space to enhance the overall design.
With files from JMR Graphics. For more information, visit www.jmrgraphics.com.