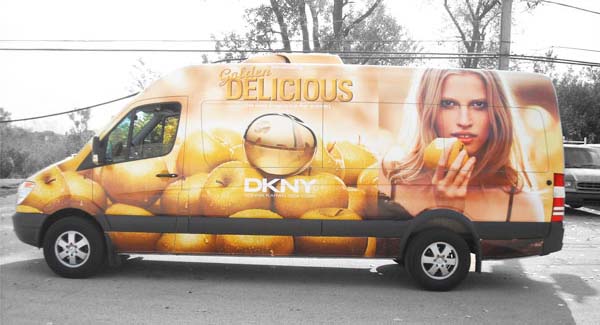 While the vehicle wrapping business has grown and its benefits are now well-known, new customers tend to ask the same questions before placing an order. It is important for sign shops entering this business to know how to respond.
According to JMR Graphics, which is 3M-certified to print vehicle wraps on pressure-sensitive adhesive vinyl substrates (example pictured), the following are the five most commonly asked questions—and answers—about vehicle wraps:
1. How long does it take to install?
The wrap installation process is different for all projects. The estimated time of completion will depend on the type and size of vehicle (e.g. car, truck or bus) and the intricacy of the wrap design.
With this in mind, sign shops should (a) provide estimates prior to ordering and (b) work closely with clients who need wraps completed by specific dates.
2. What is the process of ordering a vehicle wrap?
There are three phases to ordering a vehicle wrap, which should be explained to clients:
(a) The design phase, whereby the layout, text and images are created.
(b) The production phase, when the design files are printed and prepared for installation.
(c) The installation phase, at which point the vehicle must be taken in for the application of the graphics.
3. How long will the wrap last?
There are different types of vinyl for different applications, so the sign shop should offer a variety of options based on durability, but most vehicle wraps will last for years with proper care. To reassure the customer, it is a good idea to offer a warranty plan in case of accidents or other damage.
4. Can the wrap be removed?
Any vehicle wrap can be removed, but of course the client will rely on a professional sign shop that can do so safely, preventing any possible damage that could otherwise result from an improper wrap removal.
5. Will the wrap damage the vehicle's paint job?
If the sign shop installs and eventually removes the wrap properly, the vehicle's paint job should not be affected whatsoever. Rather, upon wrap removal, the vehicle should appear the same as it did before.
With files from JMR Graphics. For more information, visit www.jmrgraphics.com.