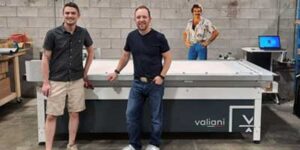 Sydney Stone, Canada's Valiani Omnia dealer has announced the first North American installation of a Valiani Optima V250 system at Little Rock Printers.  
The Optima series of flatbed cutting tables from Valiani offer versatility in a wide range of sizes. This machine is a vacuum flatbed plotter for die cutting, which allows it to cut a wide range of materials up to 20mm (3/4") thick, ideal for signage, in-house prototyping, point of sale displays, or short to medium runs of packaging, with high levels of personalization. User friendly and equipped with a ride range of accessories, it has flexibility. This system is available with four table sizes.
Since installing the Optima it has become a staff favourite and is being utilized all day. Although it was initially purchased for signage cutting it has now grown into creating new products and revenue streams within the company. The quality of the machine and the tools is second to none with precision cutting and we have found ourselves moving jobs from another die cutting system to the Optima based on the quality of cutting and finishing. With the extremely easy to use software we were able to secure a new customer based on our ability to create a rapid prototype and present it to the customer which has led to ongoing orders. We are very pleased with our purchase of the Valiani Optima V250 and are continuing to find new applications and revenue streams to capitalize on with it, said Brian Kroeker President Little Rock Printers.
"We are extremely proud to be partnering with Little Rock Printers on this exciting first of its kind installation in Canada. Little Rock is renowned for innovative quality print products that push the boundaries for design, substrates, print production, and finishing. With a dynamic production and design team producing print and packaging needs with boutique finishes we look forward to seeing all of the exciting products that the great minds at Little Rock can conceive to fully utilize the Valiani Optima," said Stephen Longmire, National Sales Manager Sydney Stone.
Sydney Stone was established in 1951 and, since that time, has grown to become one of the premier Canadian distributors of Print Finishing Equipment and Supplies throughout the world. Importing and representing brands such as Duplo , Morgana, MOHR, EBA, Vivid and Watkiss to name a few.