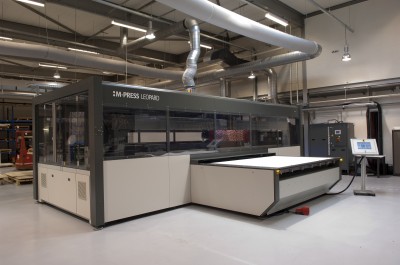 The M-Press Leopard wide-format inkjet printer from Agfa Graphics is designed to produce interior and exterior display graphics at a lower initial cost than the earlier M-Press Tiger.
Intended for print service providers (PSPs) that need fast changeovers between high-quality jobs, the Leopard can process a broad range of materials up to 51 mm (2 in.) thick and can produce output onto multiple sheets in the same job. It incorporates the same inkjet shuttle technology as the Tiger, reaching printing speeds up to 295 m2 (3,179 sf) per hour.
With a simplified feed system, substrates are manually loaded onto a Thieme vacuum-zoned print table, which uses both left- and right-side registration pins for accurate positioning. Heavier rigid substrates can be pushed toward rear-side registration pins.
Contact: Agfa Graphics, www.agfagraphics.com