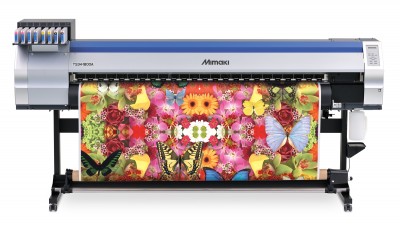 Mimaki has developed the TS34-1800A transfer sublimation printer for the production of flags, banners, other soft signage and sports apparel.
The printer is configurable with either four or six ink colours. It uses a staggered piezoelectric printhead array for faster production speeds than earlier models, delivering an average of 17.7 m2 (190.5 sf) per hour in six-colour mode, up to 32 m2 (344 sf) per hour in four-colour mode and 94 m2 (1,012 sf) in single-pass draft mode.
With two cartridges for each of four colours, the TS34-1800A can automatically switch cartridges. An optional bulk ink system allows even longer unattended operation. An automatic drying fan is also optional.
Contact: Mimaki, www.mimakiusa.com