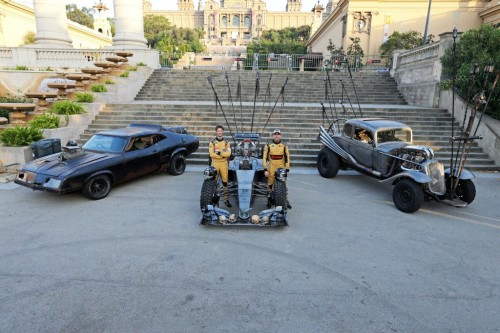 In co-operation with Warner Bros. Pictures, the Lotus F1 Team recently wrapped a car with a custom 'skin' inspired by the new movie Mad Max: Fury Road, created with 3M film and a Roland printer.
The rat-like Lotus Hybrid was fitted with 3M's 1080-M230 unlaminated matte grey aluminum wrap film, printed on a Roland SolJet Pro4 XR-640 printer/cutter.
"The print was run unattended overnight, automatically rolled onto the take-up unit and applied to the car the next day, before being loaded and driven to Barcelona, Spain, for the reveal," says Joe McNamara, part of the Lotus F1 graphics crew.
Heavily modified and fitted with special accessories, the car was unveiled at the Barcelona International Motor Show on May 8, one week before the movie opened in theatres around the world. It was accompanied by two custom vehicles that appeared in the film, including Mad Max's iconic Interceptor.
Finally, team members Romain Grosjean and Pastor Maldonado raced in cars branded with Mad Max graphics in the Spanish Grand Prix on May 9 and 10.