By Sonia Yooshing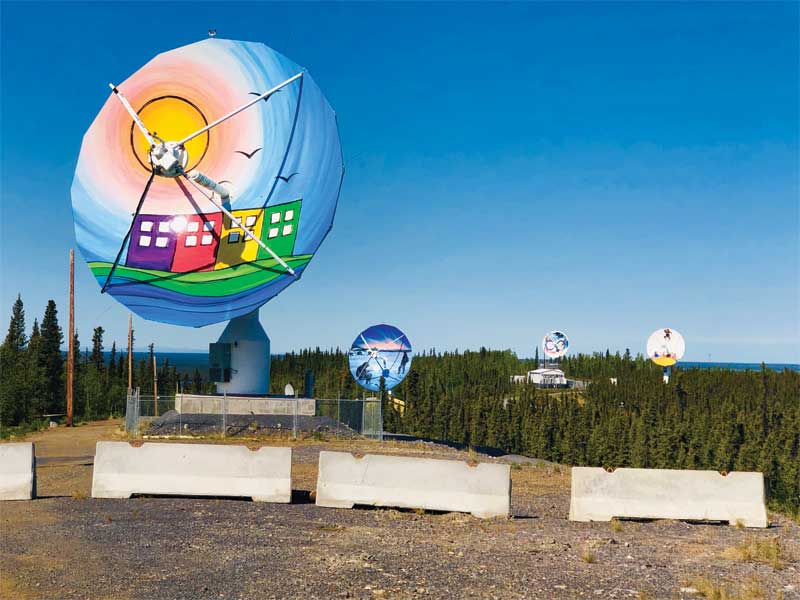 The colourful satellite receivers at the Inuvik Satellite Station Facility (ISSF) in the Northwest Territories are a testament to the creativity of many local artists who take pride in reflecting the Arctic landscape and northern culture into their work. The vibrant images on the receivers are a visual representation of each indigenous group in Inuvik, which includes the Gwich'in, Inuvialuit, and Métis, along with a design from the students at East Three Secondary School Art Travel Club and one from the town.
The art installation—part of Natural Resources Canada's (NRCan's) 'Antenna as Canvas' project—was brought to life by Ottawa-based branding solutions expert K6 Media, a signage company that believes in telling stories that create an impact. The paintings were scanned, and then large-format printed onto 3M self-adhesive vinyl. This was not all. The team then travelled from Ottawa to Inuvik to wrap these vinyls onto 15.25-m (50-ft) antenna dishes and add their final touches to the displays.
Not only does this public art project help convey important messages about the history, culture, and diversity of the region, but also promotes Inuvik as a global destination for Earth observation, business, and tourism.