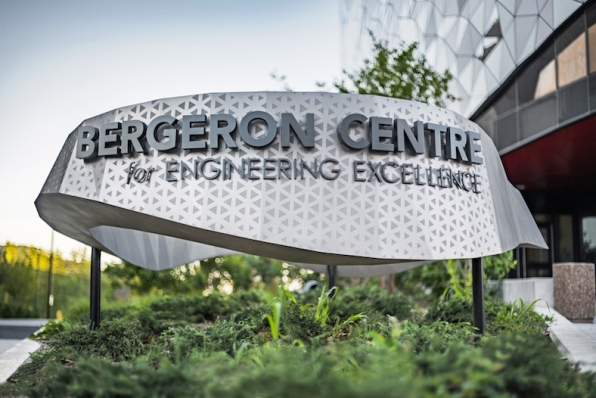 Toronto-based Eventscape was recently brought in to fabricate and install a custom exterior signage sculpture, titled 'The Ring,' for York University's new Bergeron Centre for Engineering Excellence.
The 3.7-m (12-ft) long, three-sided Möbius-strip structure was fabricated from stainless steel, bead-blasted to achieve a non-directional satin finish and, finally, sandblasted with a full-size vinyl stencil template in a custom triangular pattern to echo the architecture of the new engineering school. (Indeed, both the sign and the building were designed by ZAS Architects + Interiors.)
To create the Möbius strip in the first place, eight sections of brake-formed triangles of steel were welded together to form a faceted surface twisting back on itself. This process was specifically devised to keep the number of polished welded edges to a minimum.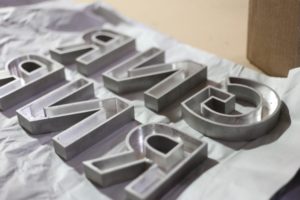 It proved challenging for Eventscape's welding team to maintain the triangular shapes as designed while keeping the sculpture's overall artistic form. Even though each triangle was different, for example, each of the connection points had to appear identical. Thanks to the integrity of the hollow 20-mm (0.8-in.) thick stainless steel form, however, no additional structural support was needed on the inside.
The design of the Ring also had to be slightly adjusted early in the process to ensure the sign letters' orientation would be optimized for sightlines of people entering the building. The larger letters—spelling out 'Bergeron Centre'—were laser-cut from 25-mm (1-in.) thick aluminum and then hollowed out with a computer numerical control (CNC) milling machine to allow light-emitting diode (LED) modules to be housed inside them for illumination purposes. The letters were finished with an acrylic lens diffuser backing to help create a halo lighting effect.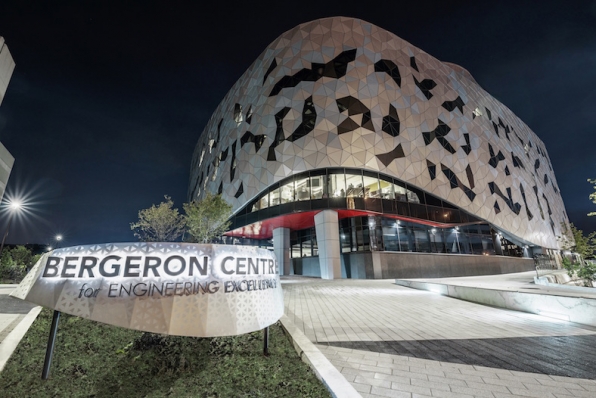 The smaller letters—spelling out 'for Engineering Excellence'—were cut from solid stainless steel and finished with paint, as they too would be illuminated by the larger letters' LEDs. Eventscape created a special jig to position custom standoffs to align the letters along a smooth-curved plane over the faceted surface of the sculpture. Two access panels were incorporated into the sign for electrical wiring access and to attach the standoffs.
To support the structure on York University's landscape, three 51-mm (2-in.) wide stainless steel legs were welded on the inside of the structure with a triangular gusset and bolted to concrete footings on-site.