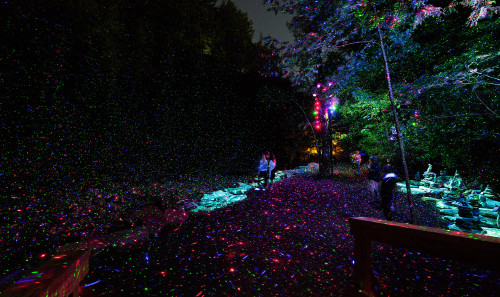 Montreal-based Moment Factory was the only Canadian winner in the Society for Experiential Graphic Design's (SEGD's) 2015 Global Design Awards, earning a Merit Award for Foresta Lumina, an illuminated pathway in Parc de la Gorge in Coaticook, Que.
SEGD announced all of the winners at its annual conference earlier this month in Chicago, Ill. Since 1987, the awards have honoured design that connects people to the places where they work, play, learn, travel, shop and gather. Today, SEGD emphasizes how designers are learning to use digital technology not to replace physical environments, but instead to enhance people's enjoyment of the real world.
In Moment Factory's case, the park's marketing team wanted to create a new ticketed nighttime experience for visitors, to help make the forest more of a destination that would bring overnight tourists to the area. The studio developed an 'enchanted forest' storyline based on local legends, to be depicted through a combination of video projections, lighting effects and sound.
Spanning 2 km (1.2 mi) of the park's walking paths, including North America's longest suspended footbridge, Foresta Lumina introduces seven mythical characters with illuminated lasercut graphics. Video mapping and thousands of light-emitting diodes (LEDs) create an immersive experience for participants as they navigate the path.
Moment Factory designed, fabricated, weatherproofed and installed all elements of the $1-million project. The digital projectors and other technology had to be carefully hidden, to respect the natural setting.
The show debuted in the summer of 2014 and surpassed expectations with two-hour lineups and 10 times the park's forecasted attendance. Local hotels and restaurants reported huge increases in evening business and overnight stays. Eventually, all components had to be removed from the forest before the harsh winter season, but a new version of the event was arranged for this summer.
SEGD's awards jury praised Moment Factory's design team for "taking a site-specific, hands-on approach to the execution" through "the immersive use of technology."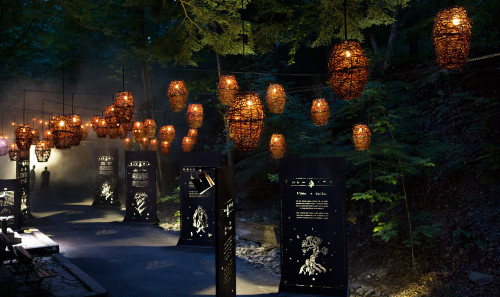 Video courtesy SEGD Design Awards: www.segd.org/awards