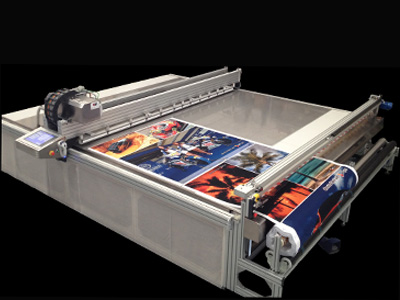 Emerson Group in Mississauga, Ont., has installed a 3.5 x 8-m (11.5 x 26.2-ft) Matic Helios laser cutter from TG Graphics/Techno Gestass for fast, precise cutting of printed textiles.
Founded in 1986, Emerson is a family-owned business that mostly prints fabrics. The Helios machine, which is designed to cut textiles without pulling, stretching or even touching them, joins the company's in-house sewing and finishing department.
"With the addition of the laser cutter, we have decreased production time by eliminating the need to outsource our more intricate cutting jobs," says Michael Hawke, president. "We have also gained an advantage by being able to cut both woven and non-woven fabrics and sealing the edges to avoid fraying."
Built in Spain, the Helios machine uses a projection system to ensure precise cutting without the need to print registration marks. Emerson is using it to cut backdrops, wallcoverings and other printed textiles for corporate events, trade shows and interior décor applications.