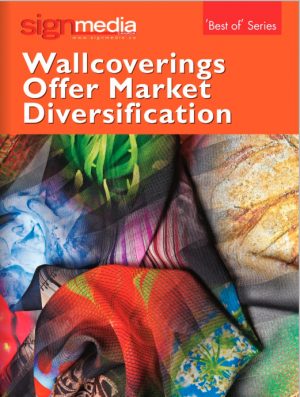 Sign Media Canada has released the newest volume in its ongoing 'best of' series of free, downloadable e-books.
Wallcoverings Offer Market Diversification is a four-part e-book that looks at the growing popularity of printing on textiles to create wallpaper and other interior decor applications. This collection of feature articles from Sign Media Canada details:
trends in decor production and the growing demand for 'mass customized' products;
how signmaking equipment can serve a new market by printing customizable interior decor and has made it easier to customize indoor environments with short-run and one-off wallpaper and drapery, among other decor applications;
the ability for signmakers to tackle jobs they never considered before, and how fabric graphic applications are expanding into new and unique areas as sign shops, print-service providers (PSPs), and other companies seek to diversify their businesses; and
how printing technologies continue to advance rapidly, with new capabilities, unprecedented flexibility, and versatility in support of creative opportunities, which has opened the door to a whole new world of possibilities for display graphics.
To download the free e-book, click here.