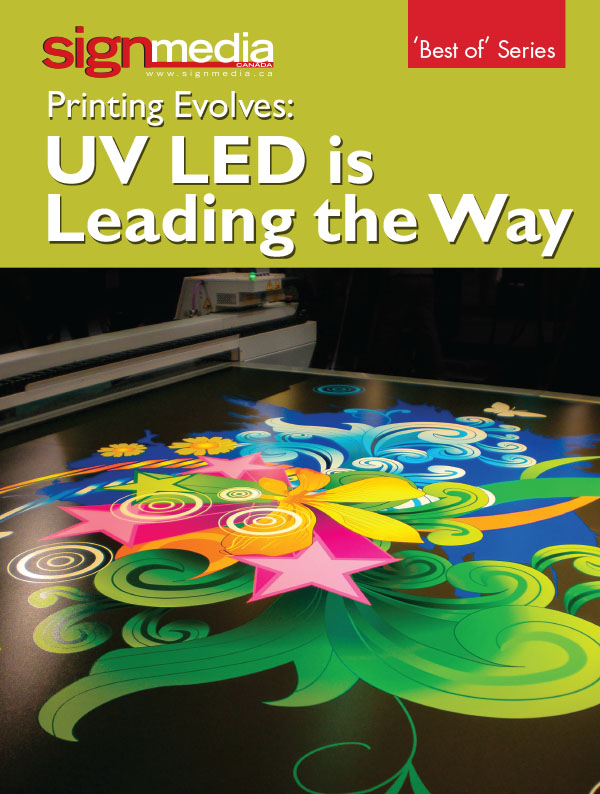 The use of light-emitting diodes (LEDs), instead of arc lamps, for UV curing has been a game-changer in the world of specialty graphic applications. Sign Media Canada's series of sponsored e-books takes a multi-faceted look at ultraviolet (UV) printing and curing.
Printing Evolves: UV LED is Leading the Way is a four-part e-book covering UV-curable and solvent UV inks for textile printing, advantages of UV-LED curing over traditional printing methods, current print trends and challenges, and how to harness new printing strategies to increase revenue and market share.
Readers will learn how the market for UV-curing flatbed printers has expanded and how new opportunities have arisen with the introduction of energy efficient LEDs to these machines.
Also, signmakers can better understand which printing technologies offer different strengths and are better suited for a range of applications. These processes are important to understand from the perspective of the specific inks.
Further, see how LEDs can open new possibilities for UV curing, including the printing of thinner and heat sensitive materials, as well as how these technologies are helping the digital printing and wide-format graphics industry grow rapidly across North America.
To download the free e-book, click here.