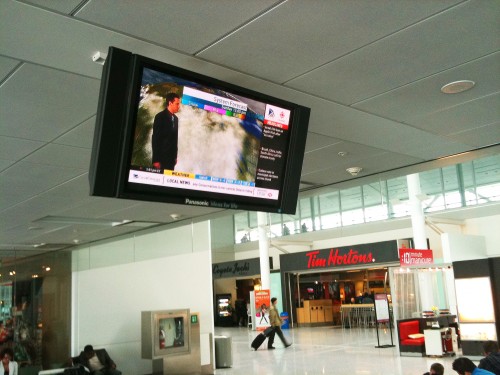 By Alan High
Digital place-based networks are not all created equal. Industry metrics go a long way in explaining why some earn so much more ad revenue than others.
When comparing a shopping mall with 20 million shoppers per year to an airport with 20 million passengers per year, the difference in ad revenue is significant. The average annualized revenues from both static and digital signage for the mall are between $500,000 and $600,000. For the comparably sized airport, they are between $4 and $5 million. The difference is approximately tenfold.
One may well wonder why, but most mall 'audiences' are uncounted, with shopper numbers estimated by the property's developer. In airports, on the other hand, ticketed passenger numbers are 100 per cent accurate. Measured media achieve much more credibility with advertisers than non-measured media.
Demographics also play an important role. In malls, the audience for digital out-of-home (DOOH) advertising matches the general population, but in airports, passengers' incomes trend well above the average. Higher-income earners—in this case, business travellers—are highly desirable for a wide range of advertising categories and difficult to reach with conventional media. As such, airports have become an important part of the marketing mix, especially for business-to-business (B2B) advertisers.
Audience research is another differentiator. Shopping malls tend to focus on consumer spending when defining their DOOH audience, while airports focus more on demographics. Advertisers' decisions are driven much more by the audience's makeup than by its projected expenditures.
Additionally, DOOH ads in shopping malls are often challenging to buy because there are multiple screen formats, sizes and orientations, which often vary by developer and even by individual location. The market is highly fragmented and confusing. By contrast, airports have largely standardized their presentation and limited their formats.
Finally, in an airport, one vendor usually controls all of the venue signage, which minimizes the 'cannibalization' of ad dollars that can occur within a multi-vendor environment like the typical shopping mall.
Alan High was formerly president and general manager (GM) of OOH firm Clear Channel Outdoor's Spectacolor and mall divisions. He was instrumental in launching digital signage at Toronto's Yonge-Dundas Square and Pearson International Airport. For more information, contact him at alanhigh@optonline.net.
To read the article, "The Road to DOOH Revenue," click here.