DOOH firm adds new sales team
by all | 23 January 2015 8:55 am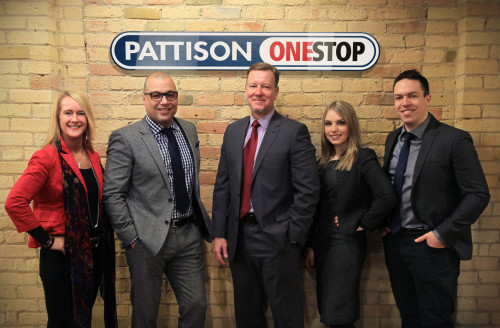 [1]Toronto-based Pattison Onestop, a digital out-of-home (DOOH) advertising division of Pattison Outdoor, has assembled a new team of sales representatives to handle its multi-platform inventory.
The team includes (pictured from left to right) Lesley Murphy, Francesco Chimienti, Cam Milne, Kelly Hinnen and Brock Darling. It will be led by Milne, vice-president (VP) and general manager (GM) of Onestop, and Chimienti, national digital sales manager.
"Our new account executives look forward to working with our clients and providing guidance, leadership and category expertise," says Randy Otto, president of Pattison Outdoor.
Onestop's network includes screens in Toronto's Path underground walkway, Edmonton's and Toronto's transit systems, residential buildings in British Columbia and Ontario and shopping malls and office buildings across the country.
Endnotes:
[Image]: http://www.signmedia.ca/wp-content/uploads/2015/01/Onestop.jpg
Source URL: https://www.signmedia.ca/dooh-firm-adds-new-sales-team/
---