Textile Printing: Digital technology comes of age
February 5, 2013
By Ann Sawchak
While printing on fabrics is significantly different from printing on paper, vinyl or films, digital textile printers have now become a viable mainstream technology to serve the needs of the sign industry and related markets. The technology is no longer limited to only a few companies that have mastered its complexities. There is a reliable network of vendors for the various necessary printing components.
Perhaps most importantly to signmakers wondering if this is the right time to jump into digital printing on textiles, there is money to be made at it in such markets as 'soft signage,' flags, apparel, home furnishings and architectural applications.
The global market
One need only look at what is happening in other parts of the world to realize the time is ripe for companies in North America to invest in similar resources to be part of the projected growth in digital textile printing.
In countries like Italy, Spain, Turkey, India and Brazil, for example, textile printing companies have embraced digital technologies to the point of idling their screenprinting equipment when producing large-scale yardage for apparel, home furnishings and interior décor, not to mention signage.

[2]
The global market for all printed textiles, in terms of volume, is estimated to be around 27 billion m2 (32 billion sq yd) per year and growing at an annual rate of three per cent. Of this total, however, only about one per cent—approximately 250 million m2 (300 million sq yd)—of textiles are digitally printed.
Nevertheless, the growth curve for digitally printed fabrics has steepened dramatically over the past two to three years. By 2016, they are expected to reach well over 800 million m2 (1 billion sq yd).
Canada and the U.S. are currently minor players in the printing of textiles—digitally or otherwise—but given the global industry's rate of growth, the opportunity to jump into the market is all the more significant today. Many designers, brand owners and large retailers are already based in North America, with growing awareness regarding the advantages of digital printing.
An increasing number of digitally printed textile-based products are showing up on North American store shelves. And the same retailers are using fabric-based 'soft signage' in ever-greater abundance to enhance both their own brands and those of their vendors.
While many of these companies have established vendors around the world that do not digitally print their textile-based materials, including many in Asia, one of the advantages of digital printing is it can help bring print production closer to customers. Retailers want their cash register to drive the supply chain, after all, such that as soon as a product is sold, a message is sent to that product's manufacturer to replenish the supply. Digital printing is a major enabler toward this goal.
The global market is changing in other ways, too. China's middle class, for example, is growing significantly, so more of that country's printed textile output is required to meet domestic needs, rather than being exported. This market shift can result in longer lead times and larger minimum orders for overseas customers, even if retailers on the other side of the planet do not want to carry more inventory. Indeed, there is a greater demand today for shorter print runs and sampling, which are more feasible through local production.
The flexibility of fabrics
As mentioned, printing onto fabrics is significantly different from printing onto paper, vinyl or films. The characteristics of the fibres within textiles, how they are woven and what treatments they contain will all affect the printing.
Once these characteristics are understood, however, there are significant advantages to digital printing over analogue processes, such as screenprinting, offset printing or gravure. The most obvious is the ability to reduce print run lengths.
Printing shorter runs at a reasonable cost enables companies to produce samples efficiently or even introduce a new printed-fabric product line in a phased approach to measure its sales potential. Flexibility can be provided by using different sizes of printers or combining them for larger output.
Flexibility in design is also a major advantage of digital textile printing. No longer do images need to be separated into a manageable number of colours for screenprinting or other analogue processes. As steps like screen production are eliminated, digital designs can be created without any limits on their colour scheme. More complex designs make it less likely that apparel, for example, can be successfully copied with knockoffs.
In the sign industry, digitally printed fabrics help reduce the weight of point-of-purchase (POP) graphics, trade show displays, event banners and interior décor, compared to vinyl substrates. This can reduce freight costs drastically and allows for much easier and more space-efficient storage, which all contributes to a smaller carbon footprint.
Soft, flexible fabrics are particularly ideal for contoured graphic applications. There is also an esthetic appeal to fabrics that is not possible with other substrates.
Specifying a system
When considering digital textile printing systems, it is important first to choose the market to pursue. This will lead to a choice in fabrics, which in turn will determine which type of ink to use. As Chart 1 on page XX shows, an ink's type determines how it becomes fixed to the fabric and whether or not that fabric needs to be pretreated. (Some printers can use all of the listed inks.)
The sign and banner market, for example is well-served by polyester fabrics, due to their durability and printability. There are two types of inks that can be used with polyester: dispersed-dye and pigment-based. Dispersed-dye inks, which yield a wider colour gamut, are the most commonly used, but pigment inks may be preferable in cases where graphics need to be more lightfast (i.e. resistant to fading or other changes when exposed to light).
For the home furnishings market, on the other hand, reactive inks on pretreated fabrics provide the higher level of durability necessary. Other types of inks for various applications include acid dyes and dye-sublimation inks.
After deciding on the market, fabric and ink type, then, the next step is to choose the appropriate printing platform. There are now a variety of entry-level machines available for sign shops looking to branch out into new services.
In general, digital textile printers have become more user-friendly and their raster image processor (RIP) software has improved significantly. While they are not simply plug-and-play machines, given the nuances of soft substrates (especially if a shop prints on a variety of different fabric types), a signmaker certainly does not need to be a textile expert to achieve success.
Keeping up with demand
In some cases, an existing digital inkjet printer is modified by removing the pinch-roller system and replacing it with a solid-roller fabric-handling system. This allows a wider variety of fabrics to be used in a single printer and also reduces the likelihood of head strikes (i.e. when a printhead comes into contact with the media) that can occur with textile-based substrates.
Some printers use a staggered head platform to help increase the amount of fabric that can be printed per hour compared to earlier machines. As the demand for output rises, sign shops can move up to faster printers like this and/or run multiple entry-level printers together.
Spoonflower, for example, is a large-format printing company that lets its customers design their own printed fabrics online for applications like banners, curtains, clothing, bags, framed artwork, pillows and furniture. Since starting up in 2008, Spoonflower has added multiple digital printers—modified by adding a fabric handling system to the base digital inkjet platform—using water-based pigment inks.
In four years, the company has grown from one beta-testing unit to 20 printers. This setup allows multiple projects to be printed at the same time.
Some sign shops both move up to a higher-speed fabric printer and keep their entry-level model for sampling and short print runs.
Fixing to fabric
Once an image has been printed, it needs to be fixed to the fabric. With heat transfer processes, a mirror image is digitally printed onto high-quality coated transfer paper, then run through a heat press to transfer the image onto a polyester fabric, which does not need to have been pretreated to accept the image.
The same equipment used for heat transfers can also be used to fix direct-printed fabrics. In fact, dry-heat fixation is used for direct printing, for pigment inks that contain a binder for printing onto uncoated natural fibres and for pigment inks without the binder.
Another method of fixation, which has become common in Europe, is to steam, wash and dry. This process is effective for applications where ink penetration is important using reactive and acid dyes.
Which method of fixation is best will depend on specific market needs. Each option can be equally cost-effective.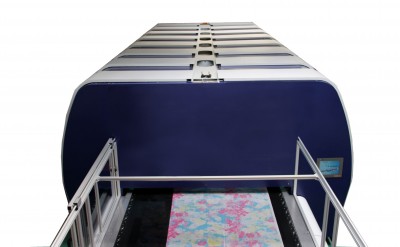 [7]
Determining ROI
Before buying a printer, it is important to determine the rate of its return on investment (ROI). Assuming a relatively busy workload and knowing the machine's average printing speed, profits can be estimated per machine-hour by calculating sales revenue based on price per square yard, then subtracting costs for the fabric, heat transfer paper, ink and/or other consumables, along with labour costs for the printer operator.
If, for example, a machine is printing 8.4 m (10 sq yd) per hour, its output sells for $20 per square yard and the fabric, ink and overhead costs total $10 per square yard, then it should yield a profit of $100 per machine-hour. This rule of thumb will help printing assets be managed so as to maximize their money-making potential.
Ann Sawchak is a managing partner at Expand Systems, which modifies Mutoh America inkjet presses for direct digital printing onto fabrics. For more information, visit www.expandsystems.com[8] and www.mutoh.com[9].
Endnotes:
[Image]: http://www.signmedia.ca/wp-content/uploads/2014/02/MS-JP6-All-Paper-80-250-Linear-yds-per-hour.jpg
[Image]: http://www.signmedia.ca/wp-content/uploads/2014/02/SM_Feb13p53_chart1.jpg
[Image]: http://www.signmedia.ca/wp-content/uploads/2014/02/Stacked-fabric-2.jpg
[Image]: http://www.signmedia.ca/wp-content/uploads/2014/02/Paint-Bucket-Dress-No-Hat.jpg
[Image]: http://www.signmedia.ca/wp-content/uploads/2014/02/Expand-Diva-Printer-Side.jpg
[Image]: http://www.signmedia.ca/wp-content/uploads/2014/02/MS-LaRio-photo-2.jpg
[Image]: http://www.signmedia.ca/wp-content/uploads/2014/02/MS-LaRio-photo1.jpg
www.expandsystems.com: http://www.expandsystems.com
www.mutoh.com: http://www.mutoh.com
Source URL: https://www.signmedia.ca/digital-technology-comes-of-age/
---