The Vancouver International Airport has expanded the use of digital signage throughout its facilities. The network now includes flight arrival and departure information displays, gate information screens, wayfinding displays and entertainment screens, for a total of approximately 1,300 digital signs installed throughout Canada's second busiest airport.
The expansion follows the signing in June 2009 of a site licensing agreement with Omnivex, a software developer based in Concord, Ont., for the management of all digital displays. The agreement was timed to anticipate the significant increase in travellers during the 2010 Winter Olympic Games. Omnivex's software had already been deployed since 2005 to support the airport's entertainment and multilingual wayfinding screens, but the new licence marked the changeover of the existing flight information management system.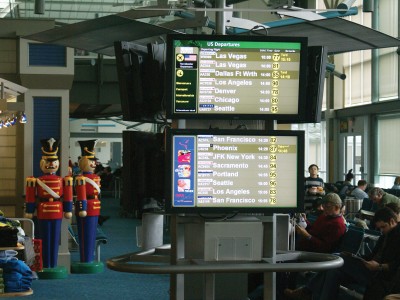 "The software gives the airport the ability to manage its entire display network in-house, eliminating the need for third-party management services," explains Jeff Collard, president of Omnivex. "The software expansion to include flight, baggage and gate displays reduces operating costs and provides greater flexibility over what the airport can do with its visual communications system."
The cost reductions are due in part to the software interfacing with existing databases and automating processes for real-time distribution of information. Data updates are displayed with content appropriate to each screen's location, without requiring additional input by the network operator.
The Vancouver Airport Authority is in the midst of a $1-billion construction project to expand the airport's services, including plans to install several hundred more digital signs over the next eight months.