Digital Signage: Synergy through interactivity
June 17, 2014
By David Little
One trend that is still emerging in digital signage is the marriage of the medium to the kind of touch-based interactivity many people have come to appreciate through their personal mobile devices. In many environments, such as retail venues, the sum of these technologies holds greater potential for marketers than either of the individual parts.
Interactive digital signs, self-serve kiosks and other 'combo systems' tend to first capture the attention of people nearby—generally by playing back compelling but linear content, like an enticing commercial 'spot' or helpful product information—and then switch to an interactive mode when triggered by external input, such as the touch of a finger, the mere presence of a passerby or permission-based identification (ID) recognition.
More marketing punch
So, an interactive system is similar to a standard digital sign in terms of playing back a pre-arranged sequence of communications elements, including video files, web graphics, text, animation and real-time content feeds. These multimedia staples of digital signage can be used to effectively entice people to interact with a screen, with much more marketing 'punch' than a typical kiosk's splash screen.
Then, once a passerby touches the panel or steps within a given proximity of it, the sign can automatically interrupt the linear content playback to display a touch-based interface—often resembling that of a smartphone—that lets the user touch 'hot spots' on the screen to launch and navigate through a branching presentation.
In a retail setting, this presentation might let shoppers find such information as product comparisons, pricing, availability and reviews. Bringing these items together to act in unison can have a number of benefits for the store. 
Automating the sales process
An interactive display system in an automotive service centre, for example, could send an inquiry to the store's web server to access a database of tires, as specified by or recommended for each car manufacturer. By matching information entered by the customer about his/her car with the recommendations in the database, the system could check the store's inventory for the right products and then retrieve and present information about availability, pricing and related services to the shopper standing at the screen (see Figure 1).
The goal is to help automate the sales process. With the precision of a talented in-store associate, the interactive digital signage can augment the shopping experience, cross-promote additional products and provide loyalty program incentives, all at once.
When presenting search results, for example, the system could also ask the shopper to enter his/her name and address and grant permission to be notified of future specials. With that information saved on the server, the automotive retailer's marketing department can automatically send out coupons when the shopper's vehicle will be due for its next oil change.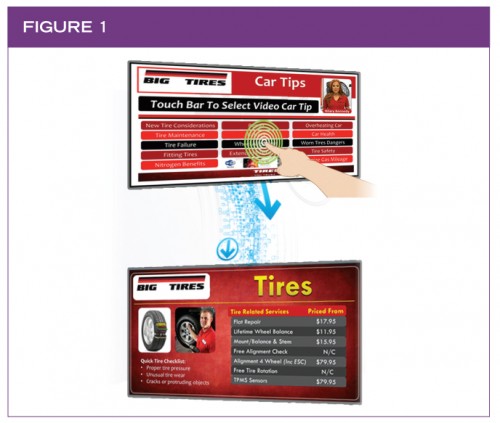 [2]
There are many creative possibilities. The motivation that entices shoppers to touch the screen in the first place might be video footage of a race car driver, for example, discussing why it is important to use high-quality motor oils in today's advanced vehicles.
Further, at the front end of customer engagement, digital signage can cast a wider net, cycling through a playlist of content with a wide variety of spots designed to sell oil, tires, batteries, air filters and so on. Each linear segment of this list can be backed up by interactive components triggered whenever it happens to pique a shopper's curiosity enough to touch the screen.
On the back end, meanwhile, the system focuses on using collected data to stay in touch with shoppers after they leave the store and offer incentives for them to return. In essence, these functions help extend the retailer's marketing reach well beyond the display panel itself.
Non-human triggers
Interactivity needs not be limited to human triggers, either. An interactive display system in a ski shop at the base of a mountain, for example, might focus more on triggers relating to remote temperature, wind and solar sensors at that top of the mountain, so as to report up-to-the-minute skiing conditions and launch specific presentations accordingly.
On a very bright day, for instance, the system could bring up reminders to buy sunscreen and wear goggles. During heavy snowfall, on the other hand, the screen may emphasize the importance of donning warm gloves.
This way, skiers who are busy putting on their boots and other gear—and might normally only glance at a digital sign in passing—will have cause to pay closer attention to the on-screen content.
At one point, such technology seemed the stuff of science fiction; but today, this can all be achieved through the proper integration of conditional event triggers with digital signage content databases. The possibilities are vast, depending on the creative imagination of marketers and other communicators.
To be sure, these types of digital signage applications, for the most part, are still in their infancy—but with the ongoing convergence between smartphones, tablet computers, kiosks and smart TVs, interactivity will increasingly play an important role in the expansion of digital signage as a communications medium. It can certainly be advocated where it will add efficiencies through automation and will make positive contributions by helping customers find useful information at the touch of a finger.
David Little is director of marketing for Keywest Technology, which develops digital signage technologies and networks. For more information, visit www.keywesttechnology[4].com[5].
Endnotes:
[Image]: http://www.signmedia.ca/wp-content/uploads/2014/05/Lighton-Tower-Press-Photo.jpg
[Image]: http://www.signmedia.ca/wp-content/uploads/2014/05/SM_May_2014_HR-43.jpg
[Image]: http://www.signmedia.ca/wp-content/uploads/2014/05/RidgeHill_press_photo.jpg
www.keywesttechnology: http://www.keywesttechnology.com
.com: http://www.keywesttechnology.com
Source URL: https://www.signmedia.ca/digital-signage-synergy-through-interactivity/
---