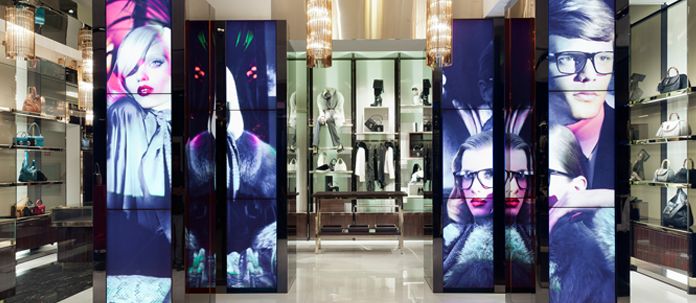 The international digital signage market is expected to achieve revenues of $20.1 billion U.S. by 2020, according to a new report from Hexa Research, a market analysis and consulting organization based in Felton, Calif.
Hexa estimates the digital signage market was worth approximately $13.3 billion U.S. in 2013 and is currently enjoying a compound annual growth rate (CAGR) of 6.1 per cent, thanks to such positive factors as improved user experience (UX), price reductions for digital display panels and continued advances in product development.
The report divides the market by technology, application and geography. While liquid crystal display (LCD) technology accounted for more than 50 per cent of global revenues in 2013, for example, the adoption of light-emitting diode (LED) displays is expected to gain ground in the near future. Retail applications (example pictured, by Planar for Gucci), which accounted for more than 40 per cent of the market in 2013, are forecast to dominate over the next six years, even while growth is also seen in the banking, health-care, education and transportation sectors.
Geography-wise, North America captured more than 35 per cent of the market in 2013, but the Asia-Pacific (APAC) region has the highest potential, thanks to favourable economic conditions and decreasing prices of locally manufactured LCDs.