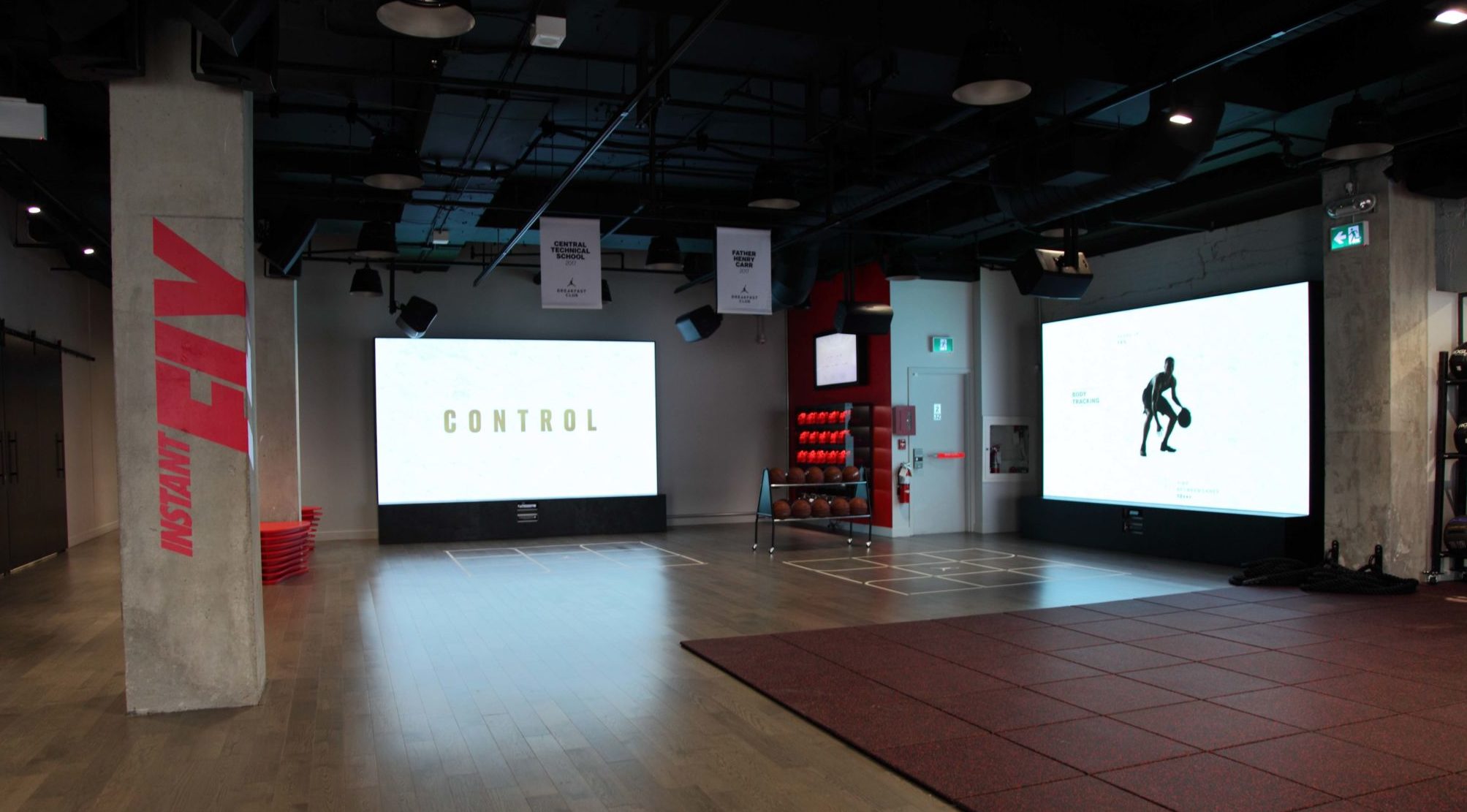 Advanced, an audiovisual (AV) system integrator based in Mississauga, Ont., has created a dynamic retail experience with digital signage and related technologies for Toronto's new three-level Air Jordan store.
The high-profile retail space, located on Yonge Street just north of Dundas Street, features an industrial-design main level, an underground kids-only concourse and an upper-floor athletic training facility called Center 23.
"We were brought in to enhance these unique spaces with AV technology," says Mark McPherson, executive vice-president (EVP) of Advanced. "Our conversations regarding the project were all geared toward creating an engaging customer experience (CX)."
On the main level, Advanced installed perforated projection film screens on four of the space's 2.4-m (8-ft) tall windows, along with four custom-mounted Panasonic digital projectors, so the store can display moving images on those windows in the evening, starting at sunset.
"We did pixel-mapping to separate the images for each window and integrated a dedicated BrightSign media player to send content to each projector," says Ibrahim Saad, Advanced's director of design engineering. "We also included a 0.4-m (17-in.) monitor in the equipment rack, so users can see what the content will look like before it's sent out."
More digital signage is integrated into Center 23, where visitors to the store can participate for free in two 'Jordan Standard' games, which measure their speed, endurance and agility and compare them to the skills of former professional basketball player Michael Jordan.
Each game takes place in an interactive grid, with its own SiliconCore light-emitting diode (LED) video wall and audio zone, and is controlled with an Apple iPad Mini mounted onto an adjacent wall. Video processing is fed from a Microsoft Xbox Kinect signal, managed by personal computers (PCs) in a central rack room and split into two for each LED display.
"The end result has truly seemed to turn heads," says McPherson. "This store strives to go above and beyond what's expected of a bricks-and-mortar retailer."