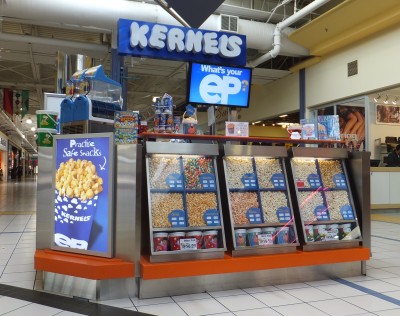 Following a successful pilot project in late 2012, Kernels Popcorn commissioned UR-Channel, a broadcasting company based in Mississauga, Ont., to roll out a national, privately branded digital signage network.
The pilot began with one location and improved 'capture rates' for Kernels' daily promotions, leading to sufficient increases in sales to achieve a full return on investment (ROI) well before the end of the initial 90-day trial. The positive early results led to the installation of digital signs at an additional 13 locations, all of which also experienced growth by the end of their pilot period, partly by reducing traditional costs of printing and distributing static point-of-purchase (POP) display materials.
UR-Channel provided network design, hardware, engineering, installation, content development and management, monitoring and service, working closely with Kernels' marketing department when creating on-screen content.
"We quickly learned working with the UR-Channel team was easy and fun, as they reacted quickly and often had fresh ideas and perspectives for our branding messages," says Eli Staiman, chief operating officer (COO) for Kernels. "We were able to increase our customers' interactions with our products, packaging and promotions."