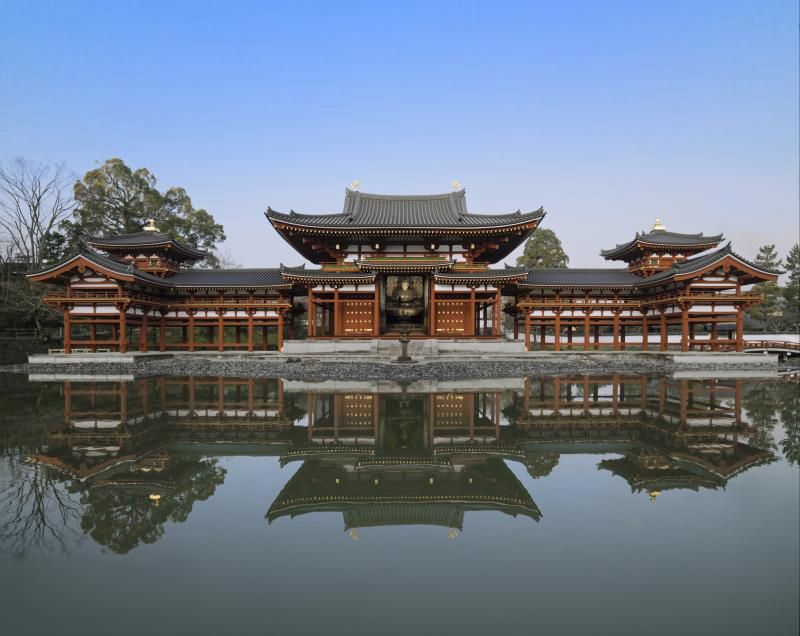 Agfa Graphics has used modern colour management and digital wide-format printing technologies to restore the faded doors of the Byōdō-in, a historic Buddhist temple near Kyoto, Japan.
Constructed in 1053, the famous temple is registered as a Japanese National Treasure and a World Heritage Site and appears on the back of the 10-yen coin. Its only remaining original building is the Phoenix Hall. When the paint on the hall's west-facing doors was fading noticeably, chief priest Monsho Kamii had a special team investigate, collecting small amounts of the remaining paint for the purpose of reproducing the colours digitally. It took about 10 years of this painstaking effort to complete the image file before sending it to Agfa.
Agfa's specialists used in-house colour management technology to match the image as accurately as possible, then printed it onto two new 1.2 x 2.5-m (3.9 x 8.2-ft) doors made of 400-year-old Japanese cypress wood. In addition to a standard Anapurna 2050i ultraviolet-curing (UV-curing) inkjet press, they had to use special tools and techniques because the doors were not flat.
The final product was submitted to the chief priest for approval.
"The moment I saw the completed doors, I could not withhold my tears," he says. "To see them reconstructed had been my dearest wish for 20 years."
The doors are currently on display at the temple's museum with explanations of the processes behind the restoration. After December 6, they will be mounted onto their new hinges in the temple for an indeterminate period.