By George Preston
Light-emitting diodes (LEDs) have been around for more than 40 years, but only recent innovations and technological advances have made them bright enough to become useful for commercial settings. With their semiconductor chips made from ultra-high-purity materials under tightly controlled conditions, today's LEDs can sustain high light output in demanding operating environments.
LED-based luminaires are generally more expensive than traditional illumination sources, but use as little as one-fifth as much energy to produce equivalent light output, which can mean a very short payback period by reducing energy consumption costs. Further savings are gained because of LEDs' long lifetimes.
While LEDs are now well-known throughout the sign industry, the market is not yet mature and continues to provide new and interesting applications for them. LEDs aimed at this market were initially installed in channel letters, for instance, but there are still many opportunities to bring them into sign cabinets, which mostly use fluorescent lighting. There are also opportunities to light larger-format sign letters, i.e. 0.6 to 0.9 m (2 to 3 ft) tall and up.
The evolution of LEDs has essentially unfolded the way many people in the industry predicted it would. There was an early need to increase the brightness of LED packages to support applications like deep sign cabinets—and that has indeed happened, steadily.
The illumination efficiency of LEDs has been improved as manufacturers process new chips and wafers. The gains in efficiency have yielded much brighter products—and for better value, as high-brightness (HB) LEDs used to be very expensive.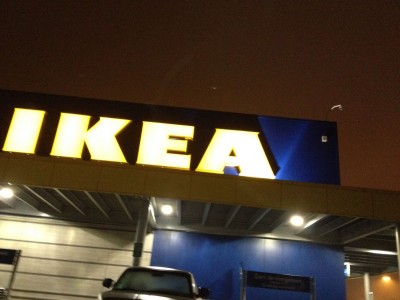 That said, a lot more can yet be gained in terms of value, brightness and efficiency. Today's best chips only produce about 30 per cent of their theoretically expected efficiency, due to tiny defects in the chips and the optics of the packaging surrounding them. Many industry experts are confident this value can be increased to 60 per cent or more in the years ahead.
Some very large applications continue to evade LEDs. Many roadway signs, for example, use a high-intensity discharge (HID) metal halide light, while high-pressure sodium produces a very bright yellow glow for some other large signs. These applications represent a major challenge for even the brightest LEDs, if configured in their traditional manner.