Developments and trends in wide-format printing
May 6, 2015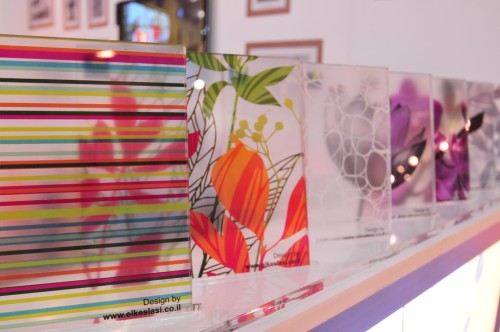 [1]By Sean Smyth
As digital technology continues to improve, inkjet printing takes more market share from analogue methods. Beyond its established foothold in signmaking, it is reaching such applications as interior décor, textiles, packaging and industrial printing.
Inkjet technology is well-proven in terms of quality, productivity, economical short runs, quick turnaround, personalization and on-demand printing. Over time, these benefits have been recognized and exploited across different sectors.
With regard to printed textiles, for example, there has been a shift from heavily labour-based supply to digital premium applications, including roll-to-roll and direct-to-garment items, with fast delivery and an emphasis on creativity and quality. As digital printing of textiles adds value, this trend is opening new business opportunities.
At the same time, inkjet technology remains the most rapidly changing area within the print industry. Ongoing developments of printheads, inks, substrates and media transport systems all contribute to push the technology forward. Ink manufacturers, for example, have broadened their range of formulations to extend the variety of applications that can be created with inkjets.
Sustainability is another key trend in the wide-format market. Discussions of the advantages and disadvantages of different inks (e.g. chemical makeup), substrates (e.g. recyclability) and printers (e.g. energy use) have demonstrated the industry's environmental consciousness as it attempts to enhance its image.
Finally, the market has turned its attention on workflow, with regard to the end-to-end control of production and ordering, from concept, artwork creation and approval all the way to delivery. Online portals, for example, allow customers to order small quantities of custom graphics.
Many wide-format printing companies are keen to invest in workflow technology to improve their websites, facilitate promotion and simplify the buying process. As business-to-business (B2B) approaches are extended to individual consumers for applications like interior décor, especially, there is a new attention paid to tools for building and reinforcing their brand image.
Sean Smyth is a print consultant who will discuss future trends in signage later this month in the Sign Hub at the 2015 Federation of European Screen Printers Associations (FESPA) Conference in Cologne, Germany. For more information, visit www.fespa2015.com[2].
Endnotes:
[Image]: http://www.signmedia.ca/wp-content/uploads/2015/05/Printed-Glass-Interiors.jpg
www.fespa2015.com: http://www.fespa2015.com
Source URL: https://www.signmedia.ca/developments-and-trends-in-wide-format-printing/
---