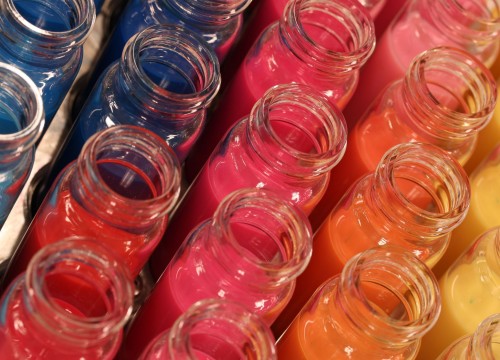 By Jan de Vooght
At any wide-format printing trade show, inkjet printers seem to take centre stage, gathering the largest crowds, with a great deal of attention given to their output capabilities. It is not the hardware, however, but rather the ink formulation that determines application suitability.
Ink technology rarely gets mentioned in headlines, but special ink formulations are crucial for meeting the many requirements of industrial printing applications. The newest generations of printheads developed for today's inkjet engines, for example, require inks with excellent jettability and accurate dot placement. In particular, ink compatibility with the latest printheads means performing well at printing speeds up to and above 100 m (328 ft) per minute. This calls for inks with high reactivity and ultra-low viscosity, capable of forming 4-, 8- and 12-picolitre droplets.
With the increasing demand for printing on a wide variety of substrates with different wetting properties, including plastics, metals and glass, today's inks also need to be formulated with the proper surface tension characteristics. For that matter, ultraviolet-curing (UV-curing) inkjet presses no longer print exclusively on flat surfaces.
Inks deposited directly onto a substrate may be exposed to difficult ambient conditions over the lifetime of the application, so both chemical resistance and abrasion resistance are required. They can be achieved with unsaturated organic molecules, typically a mix with different degrees of functionality.
These molecules form the bulk of an ink formulation that, after a sequence of radical polymerization reactions, will form a solid, cross-linked network, which in turn determines the specific physical properties of the cured layer of ink, such as scratch resistance, flexibility and solvent resistance.
In addition, pigments must be selected with a good balance between colour gamut and outdoor durability for sign and display applications.
As each of these requirements and many others are determined by the ink formulation, the design of inks for inkjet printing has become an industry unto itself.
Jan De Vooght is general manager (GM) of industrial inkjet inks for Agfa Graphics.