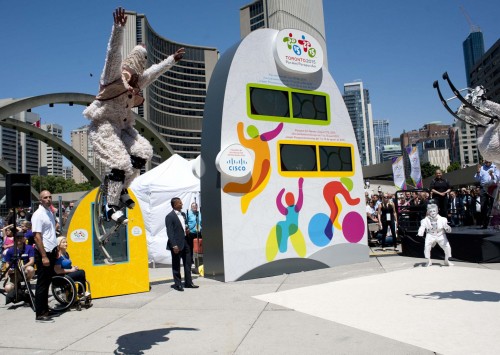 Cisco Canada has unveiled a 5.5-m (18-ft) tall, built-in-Montreal interactive signage structure at Toronto's Nathan Phillips Square, which will count down to the start of the Pan Am Games on July 10, 2015.
The aluminum-clad structure features colourful sports pictograms and five 1.2-m (47-in.) liquid crystal displays (LCDs). It is accompanied by a 2-m (6.5-ft) tall kiosk with interactive capabilities.
Using a photo app, for example, visitors can take a picture of themselves at the kiosk in front of Toronto's City Hall, download it to their smartphone and share it via social media from the clock's dedicated website, www.ciscotoronto2015.ca. The two structures are connected to a data centre 5 km (3.1 mi) away with dark fibre optic Internet cabling.
"The clock will be a landmark to announce the games are quickly approaching," says Nitin Kawale, president of Cisco Canada, "but this is more than just a clock, it's a social portal."
The company plans to install additional kiosk clocks at other locations in and near Toronto as the games draw nearer.