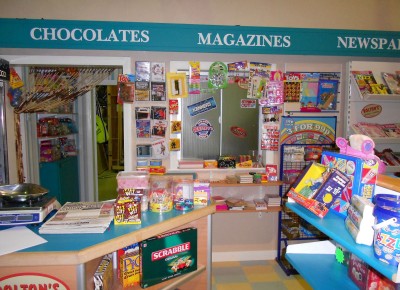 By Peter Saunders
Many Canadians are familiar with the long-running British soap opera Coronation Street, whose loyal fans have made it a primetime hit on CBC. What they may not realize, however, is many of the backdrops and props seen in each episode are created with signmaking equipment.
To make the sets appear as realistic as possible, graphic designer Lynsey Shepard uses a Roland VersaCamm SP-300i printer/cutter. She credits the machine's versatility, as it can be used to produce a wide range of printed graphics, from billboards to flyers to packaging labels to courier van wraps. Fans will recognize such iconic examples as Newton and Ridley beer labels at the Rovers Return pub, posters on the pub's walls, stickers on the door of D&S Alahan's Corner Shop and signs for the Street Cars taxi service.
"The majority of the material we print on is vinyl, as it's practical to have waterproof labels and signage, given the nature of this business," says Shepard.
She started using the machine two years ago, following a recommendation from another graphic designer.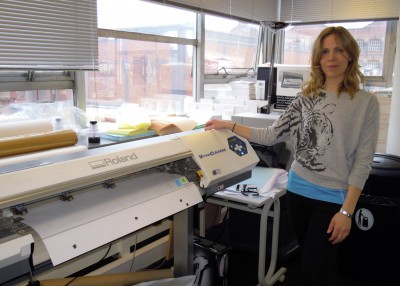 "We used to outsource our print jobs to a local company," Shepard says. "While the quality was good, it was more expensive and really restricted our flexibility on set, since if we needed something last-minute, we would either have to wait or reschedule filming. Bringing the machine in-house, there is really no compromise. Having the VersaCamm on site means we are now able to quickly reprint materials for extra takes and ensure we always keep up with the schedule."
In this respect, the machine has already paid for itself many times over. And whenever a problem is encountered, it is covered by warranty.
"We've have a couple of small 'teething problems' along the way, but with RolandCare warranty service, we are able to call an engineer to get us back on our feet again quickly," Shepard says.