By Peter Saunders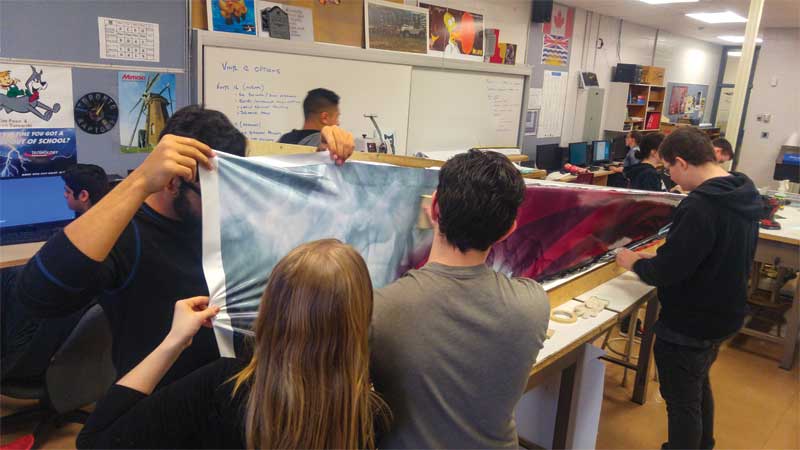 As the Canadian sign industry faces challenges in finding the next generation of professionals, it has turned to a number of methods for encouraging young people to consider signmaking as a career.
One such method has been Sign Manufacturing Day, which invites students across Canada and the U.S. to visit and tour sign companies in their area. Held each October, this event showcases the equipment and processes involved in sign fabrication, offers educational sessions, provides a better understanding of the industry and directly results in internship and job applications. In 2017, by way of example, more than 3700 potential employees walked through the doors of the Sign Association of Canada (SAC) and International Sign Association (ISA) member companies participating in the event, marking significant growth over past years.
A related challenge, however, is ensuring students are suitably equipped with the skills they will need to join the sign industry in the first place.
Documenting progress
One person addressing this challenge is David Liversidge, who heads a sign design program at W.J. Mouat Secondary School in Abbotsford, B.C., and is a member of Sign Media Canada's editorial advisory board (EAB). He has been working with SAC in recent years to develop a certification program for his students.
"To my knowledge, it is the first of its kind for the sign industry in Canada," he says. "The idea is for the kids to earn a document they can then take to a sign shop as certification of their training and abilities."
Liversidge introduces students in his Grade 11 class to signmaking through such elements as graphic design and substrate cutting. They start out with simple projects like wall posters.
"A lot of it is crafty, but over time, they build up a comprehensive skill set on digital equipment," he says. "The technology really appeals to kids of every level in school. Everyone can enjoy weeding vinyl, for example. As they learn how to make and cut graphics, they are excited to see the results."
In Grade 12, they move on to larger in-house projects, including wide-format printed banners for sports teams and non-profit events.
"As they get more involved in the production side of things, they produce simple car wraps," says Liversidge. "At the upper end, you get kids taking on the challenges of working with vector-based graphics, computer numerical control (CNC) routing and laser engraving."
One of the keys to the program's success is access to the right equipment. In addition to a computer lab running Corel software, W.J. Mouat allows students to work with inkjet printing and plasma cutting systems.
"While other schools are getting into this sort of stuff and many in British Columbia have vinyl cutters, ours is truly a fully functioning sign shop," says Liversidge.
This means high school students can graduate with a continuum of experience that is relevant to future job postings with sign companies.
"Some people are already entrepreneurial, but anyone can be trained," says Liversidge.