Illuminated Signs: A case study on Apropos
November 22, 2013
By Peter Saunders
Apropos is the latest in a series of new restaurants to open in Toronto's Pearson International Airport. Designed by Icrave, a studio in New York, N.Y., built by Toronto-based architectural fabrication firm Eventscape and operated by restaurateur OTG Management, which specializes solely in airport eateries, it is actually a pair of restaurants that mirror each other like oversized signs, forming a 'gate' for airline passengers as they enter Pearson's Terminal 1 on a moving walkway through a major concourse.
Custom façades on both sides serve to accentuate the restaurants' illuminated signs and decorative 'fins' set above a bar and a glass overhead wine rack. The concept is to allow passengers to stop and recharge with light culinary fare and cocktails before moving on to their final gate.
Façades of fins
Eventscape built the series of wavy, fin-like structures to form the façades. There are 37 decorative fins on each side, for a total of 74. Each has a unique, rotationally symmetrical curved profile and a distinct Pantone colour to create a gradient effect across the façade. Light-emitting diodes (LEDs) were incorporated into the end fins for the restaurant's logo signs, which were fabricated by DCL Communications in New York, using tube-like diffusers to achieve a neon-style appearance.
With some 1,000 parts used to build the fins, detailed numbering and management were required throughout the process. Each fin is 7 m (23 ft) tall, with a 4-m (13-ft) vertical cantilever terminating 0.3 m (1 ft) from the ceiling of the airport's atrium roof.
"As the airport atrium upper walls are made of 4.3-m (14-ft) high glass panels, our structure needed to have the 4-m (13-ft) vertical cantilever in the upper section, with only 1.8 m (6 ft) of lower wall space available for our structural connections," explains Elaine Allen-Milne, Eventscape's marketing and communications manager. "Our solution was to design and engineer a rigid, triangulated truss system embedded within the ceiling plenum, which facilitated the mounting of all suspended elements, including the wine rack."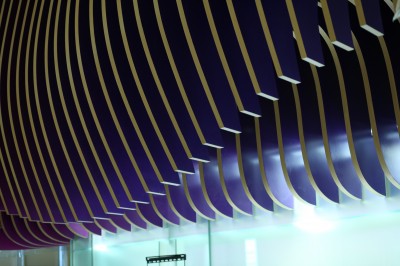 [3]
The overhead wine racks are stainless steel structures with tempered acid-etched glass front faces and shelving. They were sleeved over 'stub-down' extensions from the finished drywall ceiling, making installation relatively quick and easy, requiring only one day on each side. Co-ordination with mechanical and electrical tradespeople was necessary, too, to incorporate heating, ventilation and air conditioning (HVAC), electrical, fire prevention and audio systems into the ceiling.
The bar was built with a wooden frame, solid-surface countertop and stainless steel drink trough. Once the installation was complete, the exterior of the bar was tiled to match the floor.
Tough timing
The security procedures at the airport required lengthy approvals for each delivery and a security escort was needed at all times. The majority of the deliveries and the installation work was handled during evening hours to minimize interruptions, as more than 87,000 people pass through the concourse every day.
"Shipping, moving and installation were carefully planned with custom-made carts," says Allen-Milne. "Spider lifts were required to suspend the fins from outside the hoarding provided by the general contractor. This allowed work to continue during the day behind the hoarding, while the fins were installed outside the hoarding at night, once all passengers had left."
Restaurant renewal
Completed in June 2013, Apropos is the second new-concept restaurant Eventscape has fabricated as part of ongoing renovations and upgrades to Pearson, one of North America's busiest airports.
Icrave, meanwhile, has been working with OTG since 2011 on the entire dining program, with the goal of creating a total of 13 new restaurant, bar and market concepts throughout Pearson's gate hold areas. This has involved removing the airport's traditional gate hold chairs and replacing them with hospitality-style seating, fabricated and installed by Eventscape, with Apple iPads for ordering food and drinks (and checking flight information) at every seat. More than 2,000 seats and 785 tables will be installed by January 2014.
"When we work with Eventscape, they care about the final product as much as we do," says Gregory Merkel, Icrave's senior project manager and designer. "I don't have to worry because they have our back. And while their engineering and shop drawings are the best we have dealt with, they are also designers at heart, so they aren't making fabrication decisions based solely on data or numbers. They help us make our projects better, which is invaluable."
While Icrave is based in the U.S., founder Lionel Ohayon and partner Siobhan Barry are both from Toronto and met while studying architecture at Ontario's University of Waterloo. Yet, the Pearson restaurants represent the first project they have ever completed in Canada.
With files from Toronto-based Eventscape and Icrave. For more information, visit www.eventscape.net[5] and www.icrave.com[6].
Endnotes:
[Image]: http://www.signmedia.ca/wp-content/uploads/2014/01/APROPOS_01-crop.jpg
[Image]: http://www.signmedia.ca/wp-content/uploads/2014/01/APROPOS_FINS_BEFORE-_FINISH.jpg
[Image]: http://www.signmedia.ca/wp-content/uploads/2014/01/APROPOS_CLOSEUP_FINS.jpg
[Image]: http://www.signmedia.ca/wp-content/uploads/2014/01/APROPOS_03.jpg
www.eventscape.net: http://www.eventscape.net
www.icrave.com: http://www.icrave.com
Source URL: https://www.signmedia.ca/case-study-apropos/
---