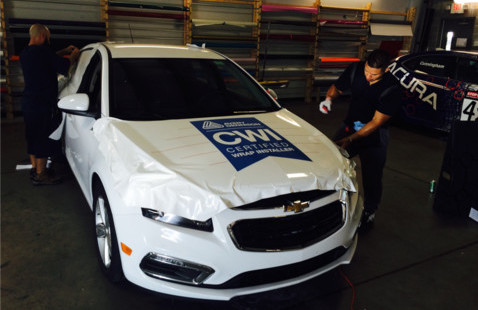 Avery Dennison reports 36 vehicle graphic installers and associated professionals passed its wrap certification test throughout the latter half of 2015, including one Canadian: Phil Aquin of Adhere Graphics in Elie, Man.
To become a certified wrap installer (CWI), applicants must pass a five-module exam designed and administered by lead instructor Justin Pate, himself an internationally renowned installer of vehicle graphics. The modules include a written component, a hands-on vehicle wrapping demonstration, a cutting test and a special fender/door/window installation. Successful CWIs get listed for free in the 'find an installer' section of Avery's website.
"The exam is rigorous," says Pate. "It is meant to ensure those who pass are the best of the best. We want them to feel confident in their skills and proudly display the CWI logo."
More information about Aquin and his business will be featured in the April 2016 issue of Sign Media Canada.