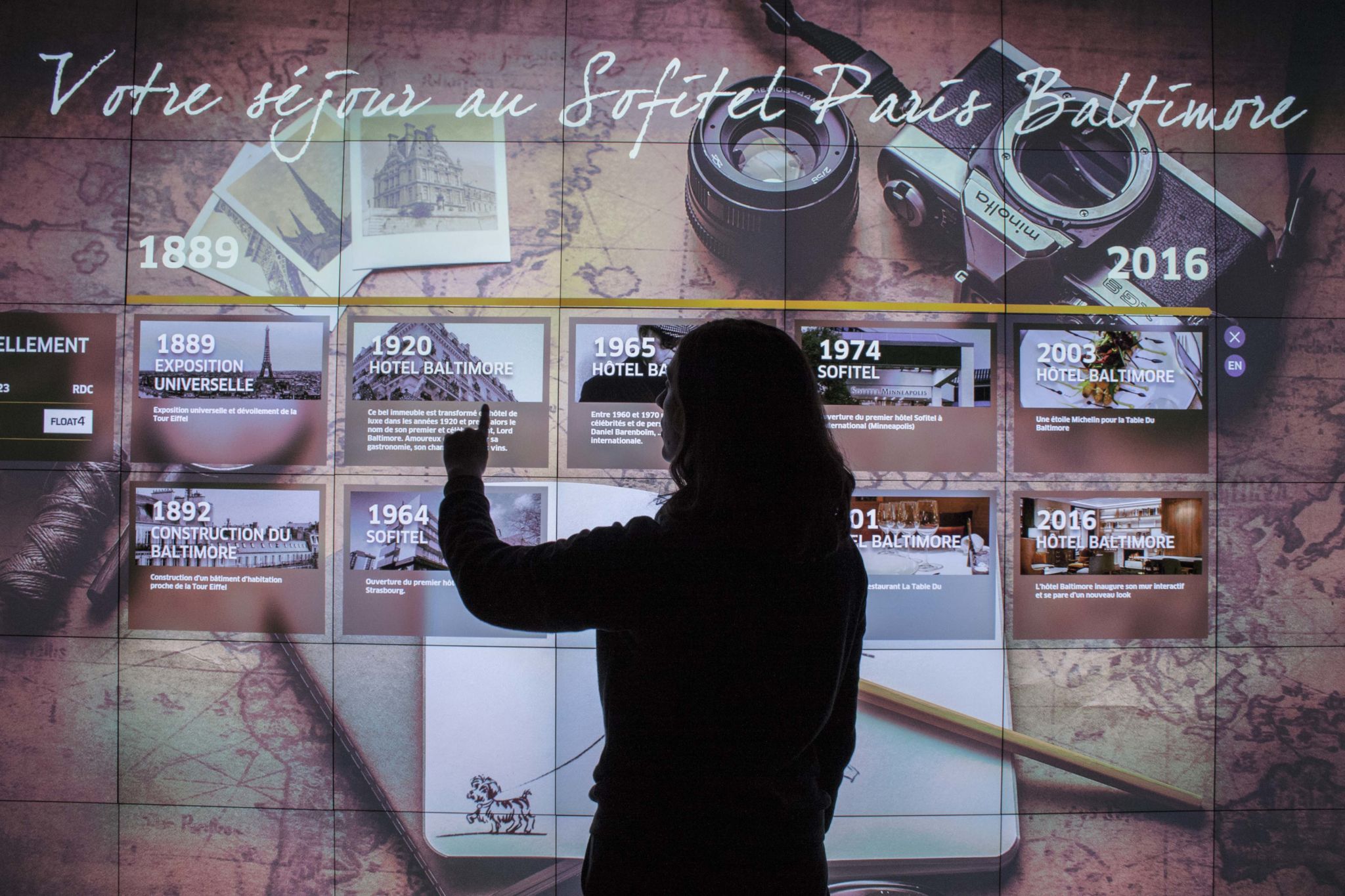 Montreal-based experiential design studio Float4's RealMotion interactive digital signage platform is being used to power a number of high-profile video wall projects, both on land and at sea.
At the Sofitel Paris Baltimore Hotel near the Eiffel Tower, for example, a video wall (pictured, top, and see video #1) uses artwork to attract guests' attention, then responds to movements and touches with a 'selfie station' photo booth and a 'virtual concierge' that allows them to explore Paris and plan their path throughout the city, which can then be downloaded to their smartphone.
"Our technical and creative thinkers worked as a tem to create an intuitive tool that complements the esthetics of a 19th-century space," says Sevan Dalkian, Float4's chief technology officer (CTO) for RealMotion.
The platform also supports light-emitting diode (LED) content mapping for Liberty Lights Center in Cincinnati, Ohio, where three digital canvases are integrated into the physical architecture of a retail space: The Forge, a large-scale LED display within the central Foundry building, which enlivens a gathering space for visitors; The Beacon, an LED-clad interpretation of a factory stack on the Foundry's rooftop (pictured, middle); and The Rosette, a programmable circular display that morphs religious symbols to evoke a stained glass window (see video below).
"Content is co-ordinated across irregularly shaped surfaces," Dalkian says. "The variability of the visuals is driven by cyclical changes, allowing for continuously evolving dynamic content."
And at sea, RealMotion manages content for a 2.4 x 6-m (8 x 20-ft) interactive video wall for Royal Caribbean International's Ovation of the Seas cruise ship. The wall (see video below), comprising eight asymmetrically staggered liquid crystal displays (LCDs), reacts to people passing by and can be controlled by gestures, allowing passengers to 'paint' with wide sweeps or short, sharp motions.
"An infrared (IR) camera tracks movements, which are translated into visual effects," says Dalkian. "There are nine themes, so individuals will encounter an entirely different interactive experience each time they pass."
The technology has also been deployed at Winnipeg's Mere Hotel, eBay's headquarters (HQ) in San Jose, Calif., and the Seneca Buffalo Creek Casino in Buffalo, N.Y.
"We developed the platform as an extension of the content design and consulting services we already offered our clients," says Alexandre Simionescu, co-founder of Float4, "and it is now being installed as their sites around the world."