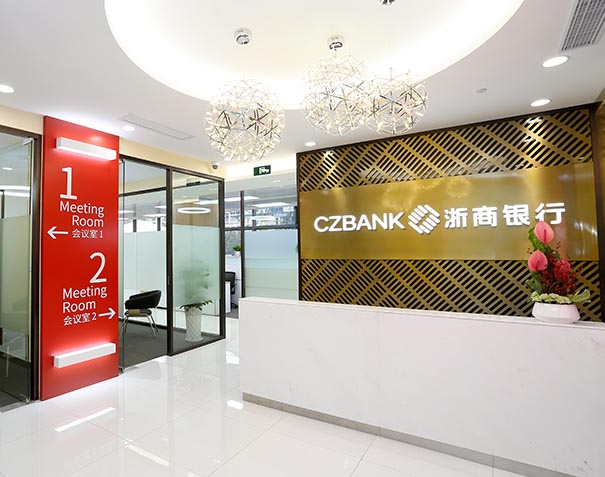 Toronto-based branding and design firm Shikatani Lacroix, known for retail and wayfinding projects, recently worked with MetaThink in China to develop interactive digital signage systems for new bank branches across that country.
The project involved rolling out a new corporate identity created for China Zheshang (CZ) Bank by MetaThink to reposition the bank's brand and highlight its focus on financial technology (fintech), innovative products and improved efficiency, responding to consumers' growing appetite for digital services. Together, Shikatani Lacroix and MetaThink submitted three potential concepts to CZ Bank management for review, which led to a single, final scheme.
"We learned how banking needs to evolve into a hub of both conventional and digital services that starts with the customer at the centre of the experience," says Jean-Pierre Lacroix, president of Shikatani Lacroix and a member of Sign Media Canada's editorial advisory board (EAB). "This is important because customers are looking for a comfortable experience that provides confidence in making financial decisions."
The new exterior design emphasizes signage over each branch's entrance and 24-hour service area, while a corner of the building doubles as an architectural sign emblazoned with the bank's logo. Key windows showcase digital signs to catch pedestrians' attention and promote the latest banking rates and services.
Inside, the new branch concept features a digital 'take a number' queuing system, tablet computers for customers to use while they wait, an electronic learning zone with a curved digital screen and a virtual reality (VR) zone where they can relax in a simulated setting or interact with a virtual concierge.
Headquartered in Hangzhou, CZ Bank operates a network of 300 branches in major cities across China. Two branches in Hangzhou and Chengdu launched the prototype design scheme in August, while the first new flagship location is scheduled to open in Beijing in November. Then, the revitalization of more than 150 branches is slated to start before the end of the year.