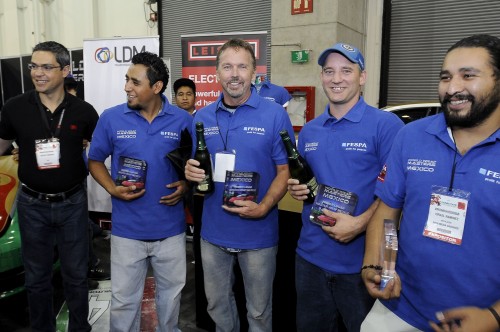 Last month, Canada's own Phil Aquin was named one of the winners in the World Wrap Masters competition at the largest Federation of European Screen Printers Associations (FESPA) Mexico trade show to date.
The show was held from August 21 to 23 at Centro Banamex in Mexico City. The wrapping event was one of the highlights, with 16 teams competing over all three days of the show. As in past editions, they showed off their car-wrapping skills, but in a new twist this year, they also had to apply printed graphics to mannequins, toilet seats and speakers.
The winning team paired Winnipeg-based Aquin of Adhere Graphics (pictured below) with Jim Miller from the U.S. (pictured, centre). Aquin is a 3M preferred installer who has been wrapping vehicles since 2004 and working in the sign and graphics business since he was 13.
Another crowd-drawing portion of the show was the Connect Conference, where a global lineup of presenters delivered seminars about outdoor advertising, point-of-purchase (POP) displays, three-dimensional (3-D) printing and related topics.
FESPA Mexico's overall attendance was up 29 per cent from last year—and even up 20 per cent from the previous best-attended year, 2012—reaching 10,173 unique visitors over the three days.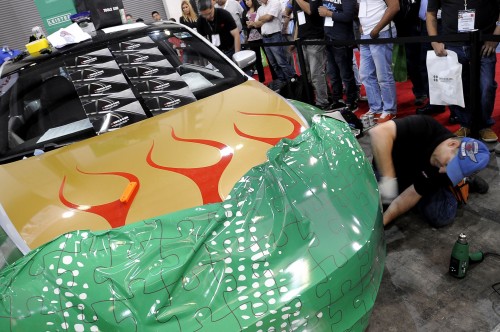 "Traffic was great," says Brian Phipps, vice-president (VP) and general manager (GM) of Mutoh America, one of the exhibitors. "We received hundreds of leads and took deposits on several of our new printers. That is always a good sign, when qualified attendees are willing to spend money on the show floor."
Meanwhile, the show's 144 exhibitors represented a 13 per cent increase over last year; and international brands filled 30 per cent of the show floor, a 10 per cent increase from 2013.
"FESPA Mexico continues to grow each year," says Michael Ryan, FESPA's group exhibition manager. "We've already had demand for space in 2015 from our 2014 exhibitors, as well as other global brands that missed out on securing space at this year's event. It's great to see this optimism."