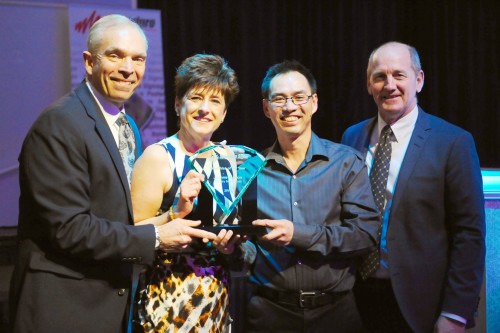 Joanne Ruston, owner of Speedpro Signs Calgary North East, recently won the chain's franchise of the year award for 2014. Not only does this mark the fourth time she has won the award, but she was also honoured for achieving the top sales in Canada.
"Under the ownership of Joanne Ruston and production management of Joe Yee, this franchise has exceeded expectations in every category," says Stuart Burns, president of Speedpro Signs of Canada (pictured, left, next to Ruston, Yee and Jim Wernham, national director of operations). "It set new record sales for an individual location, for which Joanne has won the Al Crow Memorial Sales Award."
Following a 20-year career in the service industry, Ruston transferred her expertise to the sign industry in 2001. In 2009, she was named one of Business in Calgary magazine's leaders of tomorrow.
"We move beyond order-taking into a consultative role with our customers," she says, "ensuring they end up with the type of signage that will satisfy their needs and objectives."