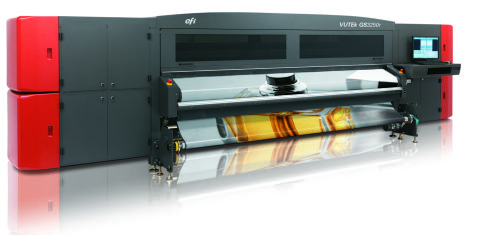 Calgary-based Bolder Graphics recently acquired three new large-format Vutek ultraviolet-curing (UV-curing) printers from Electronics For Imaging (EFI), marking the largest single installation of its type in Canada to date.
The company has added one GS3250LX roll-to-roll printer (pictured) and two GS2000LX flatbed printers. Combined, they can reportedly produce 580.6 m2 (6,250 sf) of graphics per hour on rigid or flexible substrates.
"This new capacity will have a huge impact on our retail advertising, outdoor display, vehicle graphics and corporate packaging products," says David Watt, vice-president (VP) of Bolder Graphics. "Clients will see faster timelines and more beautiful graphics."
Bolder Graphics, which has operated for more than 40 years, has also turned to the super-wide-format machines as a 'green' alternative to older hardware. All three of the new printers use low-heat, energy-efficient light-emitting diodes (LEDs) to cure inks, while instant on/off controls help reduce power consumption further.
The installation took place over three days and was captured in a time-lapse video (see below).