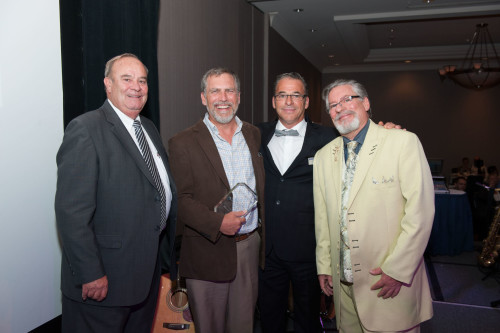 Bob Mattatall, president and CEO of Mattatall Signs in Dartmouth, N.S., won the Sign Association of Canada's (SAC's) 2015 Most Outstanding Industry Contributor Award during the 30th annual CONSAC trade show and conference.
In the past, Mattatall (pictured, second from left) has been chair of SAC's Atlantic Chapter, president of the Canadian Sign Council and president of SAC. He is currently vice-chair of the International Sign Association (ISA), through which he has been an advocate of Sign Manufacturing Day as a workforce development initiative. Until this year, in fact, Mattatall Signs was the only Canadian company to take part in the annual event, which invites students to tour signmaking facilities.
Mattatall accepted the award from past recipient Peter Brimmer (pictured, left), current SAC president François Lussier (second from right) and CONSAC chair Don Ross (right) on September 25 during the CONSAC dinner event.