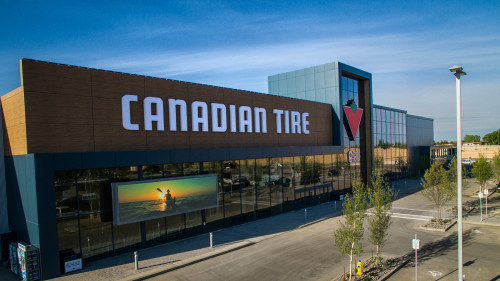 In Edmonton, Canadian Tire has opened its biggest store yet, featuring more than 100 digital signs throughout 13,006 m2 (140,000 sf) across two floors, including an exterior light-emitting diode (LED) screen and interactive product selectors.
The retailer's in-house digital teams in Winnipeg, Waterloo, Ont., and Toronto worked with interactive design experts to develop the store's new customer experiences, including a car simulator for 'test-driving' tires in different weather conditions and an app for creating and interacting with a three-dimensional (3-D) 'dream backyard.'
"The speed of change in our industry means we need to be nimble and try new things," says Allan MacDonald, chief operating officer (COO) for Canadian Tire. "Our investments in high-impact digital technology have created a modern, inspirational and fun environment for shopping."
The store's staff includes 240 sales associates to help shoppers use the new interactive technology. For a virtual tour of the new store, see the video below.