By Courtney Bachar
Business partners Roy and John Druce established Unique Media Solutions (UMS) in December 2006 with one simple principle in mind: build the very best company for clients of all types and sectors who require compelling graphics to transform their brand. UMS strives to take average business graphics and turn them into cutting-edge, dynamic branding concepts designed with the sole purpose to stand out. And it worked. The company experienced tremendous growth in a very short period of time. To better serve its clients, UMS moved to a new facility in September 2015. This larger location enabled the shop to expand its current product line and purchase state-of-the-art equipment to service their ever-growing client list. In May 2017, Dean Smalley took over ownership and parlayed his experience in the transportation industry into an even more nimble company that understands the importance of delivering quality product and service in a timely, efficient manner. Customer satisfaction is of the utmost importance to Smalley, who continuously emphasizes his philosophy of creating and nurturing long-term partnerships with all his clients. "At UMS, we believe in exceeding our client's expectations," he said.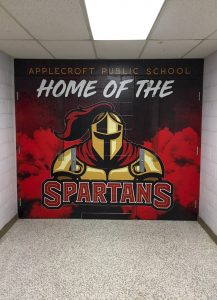 Sign Media Canada (SMC): What makes your company unique?
Dean Smalley (DS): What makes our company unique besides our name is that we are a one-stop-shop. We have in-house designers, production teams, and installers who all work together to provide the ultimate solutions for our clients. We have also established a national and international network of highly skilled installers to service our clients throughout North America. 
SMC: How large is the facility?
DS: Several years ago, we expanded into a new 743-m² (8000-sf) location in Whitby, Ont. This central location supports our four primary departments consisting of administration, design, production, and sales. Collectively, we are "The Team."
SMC: What type of signage does your shop primarily install? 
DS: We mainly installed decals and full wraps on corporate vehicles. Due to client confidence and satisfaction in our work, we expanded into a vast number of areas, such as interior and exterior graphics, including window, floor, and wall graphics; signage, including pylon signs, backlit storefront signs, wayward signs, A-frame signs, banners, and lawn signs; as well as small-format projects such as stationery and business promotional items. We also frequently wrap and decal recreational vehicles and equipment.