By Samantha Ashenhurst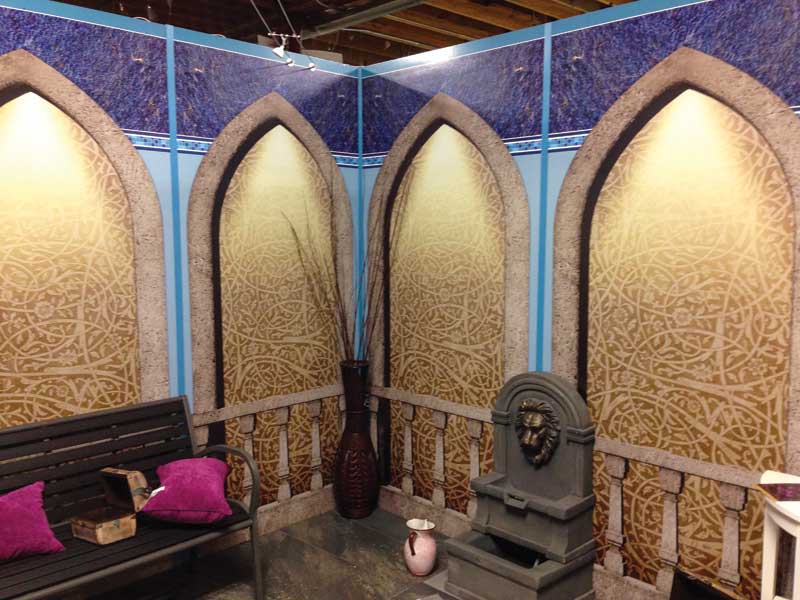 When it comes to his craft, John Wardrope, president and CEO of Winnipeg-based plastics manufacturer Acryl Design, has always been keen on making huge moves and seeing where they take him.
"I started the business 35 years ago on a five dollar investment," he says. "Since then, with no salespeople or out-marketing, our shop has grown and employs 25 people."
Acryl Design is equipped with all of the equipment needed for a spectacular sign shop: a computer numerical control (CNC) router, an ultraviolet-curing (UV-curing) light-emitting diode (LED) flatbed printer, a vacuum former, a roll-to-roll (R2R) printer, and more. However, despite having a loyal base of customers with 'traditional' signage needs, Wardrope does not consider his company to be a 'sign shop'—or himself a 'signmaker.'
"We make signs, but that's only about 20 per cent of what we do," he explains. "My first business is making 3D objects. In other words, I am a custom fabricator. If somebody needs something made, I can make it! That's the kind of work that drives me."
Crafty beginnings
Wardrope's career in fabrication began in 1983 when he tried his hand at making costume jewellery out of acrylics and plastics. He rented a booth at a local Christmas craft show to sell his custom creations and soon found a market for his work.
"The jewellery I created was eye-catching," says Wardrope. "Pretty soon, people were approaching the booth to ask if I could fabricate other items. They were asking for menu holders, display cases—you name it."
Wardrope took custom orders as they came in and taught himself to craft different items out of different types of plastic, including acrylic, polycarbonate, and polyethylene. His clients were impressed by his work and, from there, Acryl Design was born.
Growing with clients
As his client base grew, Wardrope expanded his services, purchasing advanced equipment and learning to use it on-site. In 1994, he invested in a CNC machine. He was not sure how to use it—and did not actually need it at the time—but figured the investment would pay off in the long run.
Wardrope's prediction was correct; in 1994, Acryl Design landed a contract with Imperial Tobacco Canada, which required plenty of digital printing and manufacturing on a variety of substrates, including polymetals, dye-bond, plexiglass, and double-sided cardboard.
"We were commissioned to do Imperial's counter displays," says Wardrope, "and, with the CNC router, we were able to imprint the company's logos."
From there, Acryl Design garnered attention from other big-name clients across the country. In 2000, the company started designing and manufacturing all of the displays for Soda Stream Canada. The project required printing for a range of applications, from video screens to airport displays.
To keep up with the changing demands, Wardrope installed a UV-curing LED flatbed printer in his 1394-m2 (15,000-sf) facility.
"Creating trade show booths for Soda Stream required a lot of printing," he says. "We were printing graphics on 1.2 x 2.4-m (4 x 8-ft) foamboard, so purchasing a flatbed printer made sense."
Escaping convention
In 2015, Wardrope received a question that piqued his interest.
"One of our customers asked, 'can you create an escape room that's modular?'" he says. "I thought, 'well, that's different.'"
Often used as team-building exercises, escape rooms are interactive games where participants are required to solve riddles and challenges. They are usually hosted in existing buildings, with rooms furnished or altered to suit the game's theme, but these modifications often present ambiguity in regards to safety codes and requirements.
Wardrope opted to create a modular system that would allow designers to create customizable games, while also ensuring the safety of participants. The design makes it easy for the rooms to comply with building codes, as they come fitted with suitable building materials and electrical elements.
"There are only 12 volts running through the system, and then it's plugged into a 120-volt outlet," explains Wardrope.
"The rooms, which are made up of about 100 pre-fabricated 1.2 x 2.4-m (4 x 8-ft) sheets of UV signboard, are clipped together via a custom-designed extrusion. The installation becomes like a building, with threaded rods and rails running through it. When the modular system is installed, the theme of the game is already applied and our client is able to furnish the set and further customize their game."
When shipped, the rooms are comprised of four skids of UV signboard, totalling 5443 kg (12,000 lbs). Two games fit in a 16-m (53-ft) trailer.
"So far, we've shipped about 30 or 40 games to the U.S.," says Wardrope. "All of the designs we create are compliant with local building codes, and are also compliant with the Americans with Disabilities Act (ADA)."
Beyond the sign
In early 2018, a Vancouver-based group asked Wardrope if he would be able to fabricate a specialty booth for an upcoming trade show. The client was looking for a functional, synthetic skating rink where attendees would be able to skate around.
"It was a fundraising booth," explains Wardrope. "The client wanted to include a remote-controlled, digital scoreboard overhead to keep track of how many pounds of food had been donated."
The installation, which had to be durable enough to survive four days on the showroom floor, was printed and manufactured over three-and-a-half weeks at Acryl Design's facility before being transported in a truck to the expo in British Columbia. The client's team assembled the 4.8- x 15-m (15- x 50-ft) booth within eight hours.
"We constructed the entire booth and manufactured every element," says Wardrope. "We printed the synthetic ice, the crowd—everything."
Next adventure
Now semi-retired, Wardrope intends to scale down his business and focus on projects that most interest him. Specifically, with the assistance of an electronics engineer, he has started developing new and innovative electronics, all of which have been approved by the Federal Communications Commission (FCC).
"Over the past few years, I learned how to code computer chips," says Wardrope. "With this technology, I've started creating wireless, reactive props for our escape rooms. These can be programmed so when a participant moves an item, it affects something else in the room."
"I use signmaking equipment to create my projects, but I don't always classify it as such," he adds. "It's really not sign equipment; it's printing on an object with an idea—whether it's a sign or anything else."
For more information on the escape room projects, visit www.escaperoomprops.ca.