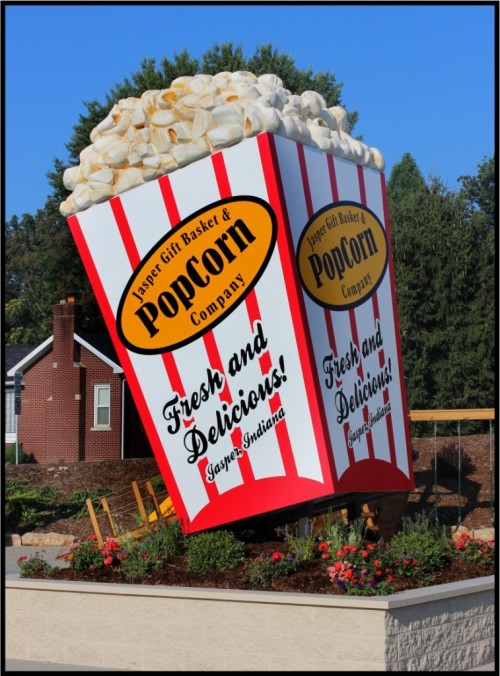 Custom Sign & Engineering was recently commissioned to build a special 'roadside attraction' sign for Jasper Gift Basket & Popcorn Company, so as to capture the attention of both locals and tourists.
The sign company, based in Newburgh, Ind., was given a snack-sized popcorn box as a sample. After some discussion with the client, the final design called for a 4.3-m (14-ft) tall replica of the box.
Custom Sign used a computer numerical control (CNC) router to cut aluminum panels to fabricate the four-sided popcorn box. Each panel was painted with red and white stripes before being transported to the job site for installation, along with a popcorn 'topper' sculpted from polystyrene (PS), coated with polyurethane (PU) and finished with an acrylic texture.
The completed sign was mounted on an existing light pole, using a four-sided framework of steel angles for maximum visual impact. Steel supports were buried into the parking area below.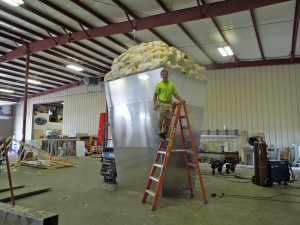 Bob Mounts, purchaser for Custom Sign, credits CNC technology in particular for making the project possible. The company's router can process substrates up to 1.8 m (72 in.) wide and at lengths starting at 3 m (120 in.) and extending by increments of 0.6 m (24 in.).
"The router has helped increase our production capacity and improve the quality and consistency of our products," he says.
With files from Axyz International and Peachtree City Foamcraft. For more information, visit www.axyz.com and www.foamcraft.info.