By Peter Saunders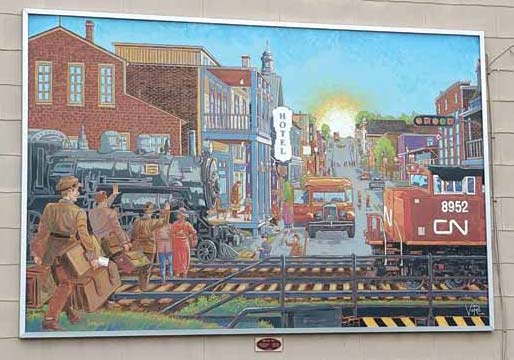 On July 16, a mural created by professional comic book artist Vincent Rioux—also known as VoRo—was unveiled on the exterior wall of a downtown store in Mont-Joli, Que., part of the Bas-Saint-Laurent region.
Commissioned by local organization Les Murmures de la Ville and partly funded by the Legacy Fund component of the Building Communities Through Arts and Heritage program, the mural—titled 'À la Croisée des Chemins' or 'At the Crossroads'—commemorates the 151st anniversary of the construction of Matapédiac Road in Sainte-Flavie, which led to the founding of the city.
The construction of the road was historically significant not just for Mont-Joli, however. It also represented the first line of communication between the Maritimes and the south shore of the St. Lawrence River when it opened in 1867, the same year Confederation united Ontario, Quebec, New Brunswick, and Nova Scotia as the Dominion of Canada. The new federal government also began construction of the Intercontinental Railway, which would reach the municipality the following year.
"Our government is pleased to fund projects that showcase the talent and creativity of our artists and tell the stories of the people, places and events that have shaped our country," says Mélanie Joly, federal minister of Canadian Heritage. "These projects also bring the arts to Canadians in their communities."
"We couldn't be more delighted with this mural, created by a local artist," says Martin Soucy, mayor of Mont-Joli. "It pays tribute to the city's early days and enhances our murals, arts, and heritage tour route."
Les Murmures de la Ville is a non-profit organization established in 2003 to develop, maintain and promote the tour route as an outdoor art gallery. The route currently comprises 34 sites, including 22 outdoor murals.