By Susan Mattine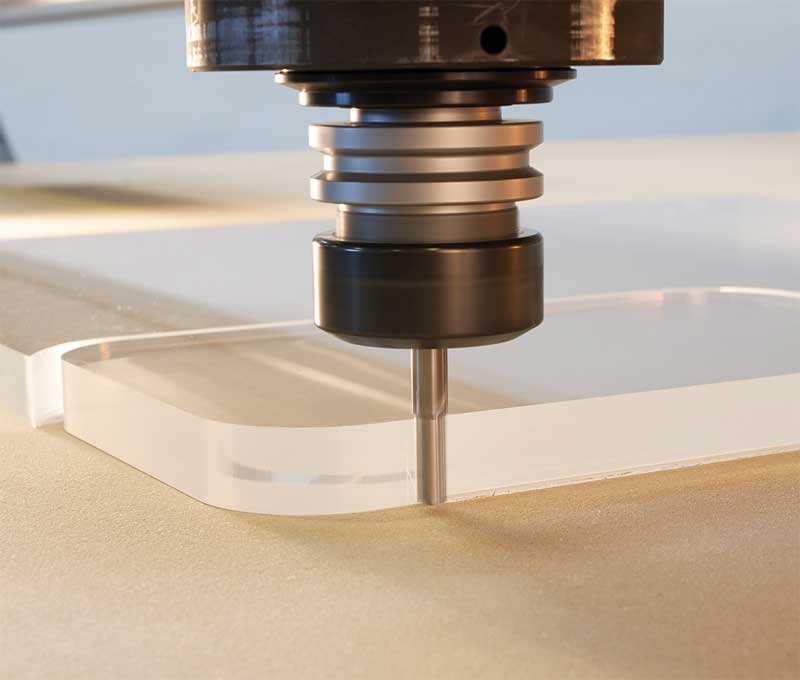 When consumers walk into any high-end retail store they are instantly captivated by the elegant display stands that grace the aisles. Smooth edges, brightly lit shelves, and innovative design entice people to take a closer look at the advertised product line or promotion of the month. Behind the layout of some of these displays is the mind of a creative genius. But what about the edge finishes? Without a versatile computer numerical control (CNC) machine, one might end up with edges that look sloppy and unprofessional.
In the business of creating point-of-purchase (POP) displays, this will either make or break the effectiveness of a presentation. To produce a smooth, polished cut and stay competitive in the demanding signage industry, a CNC machine is well worth the investment. Not only will cut edges look superior, but also steps like sanding and using a flame polisher will be eliminated. This saves time, improves production efficiency, and guarantees a quality finish every time.
What to look for in a CNC machine
Shopping around for a CNC machine can be overwhelming, especially when it is the first time as there are several features, tools, and accessories to choose from. That said, what does one really need to successfully create a POP display? A strong, reliable CNC machine is a great place to start. Also important, however, is machine cut and versatility. Together, these features make a CNC machine one of the most powerful cutting tools a signmaker can add to their shop. Other factors include:
A strong, rigid base
A heavy-duty CNC router allows one to couple a strong base with a stiff, solid gantry. A strong structure supports quality edge finishing, offering a robust and reliable unit while helping to minimize vibration and movement.
Helical rack systems and servo drive motors
These help to deliver smooth movement and greater accuracy. As a result, vibration is kept to a minimum. This allows materials to be cut at a higher speed, producing higher volumes without losing quality.