5 things to know: Your weekly roundup
October 11, 2019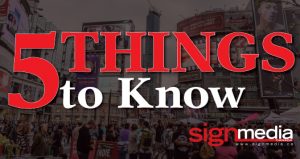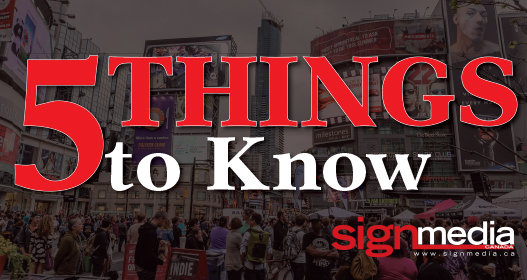 [1]1. LG Electronics Canada (LG), Maple Leaf Sports and Entertainment (MLSE), and Scotiabank unveiled a new outdoor light-emitting diode (LED) video screen at Maple Leaf Square[2].
2. Pattison Outdoor Advertising and its digital advertising affiliate, Pattison Onestop were the official out-of-home (OOH) advertising partner for We Day Toronto.[3]
3. In the digital age, every physical space needs to justify its existence by offering an extraordinary experience—one that cannot be found online[4].
4. Sekanskin specializes in exotic vehicle graphics using vinyl customizations. They create unique wraps from colour change to bespoke creations[5].
5. Whether it is marketing collateral, packaging, or displays, brand colours must always match. Just a few years ago, one could have walked through a wide-format trade show with only a few (if any) colour management vendors[6].
Endnotes:
[Image]: https://www.signmedia.ca/wp-content/uploads/2018/08/SM_5-things-to-know_HR-4.jpg
light-emitting diode (LED) video screen at Maple Leaf Square: https://www.signmedia.ca/lg-electronics-unveils-new-led-screen-at-maple-leaf-square/
out-of-home (OOH) advertising partner for We Day Toronto.: https://www.signmedia.ca/pattison-provides-billboard-space-for-we-day/
one that cannot be found online: https://www.signmedia.ca/twilight-signs-designing-brands-as-experiential-spaces/
colour change to bespoke creations: https://www.signmedia.ca/murals-in-the-city-how-sekanskin-covered-the-toronto-raptors-journey-to-the-nba-finals/
only a few (if any) colour management vendors: https://www.signmedia.ca/matching-spot-colours-on-digital-presses-how-to-make-sure-the-brand-strikes-the-right-colour/
Source URL: https://www.signmedia.ca/5-things-to-know-your-weekly-roundup-11/
---