2017 National Sign Competition: Digital Signage Winner
July 31, 2017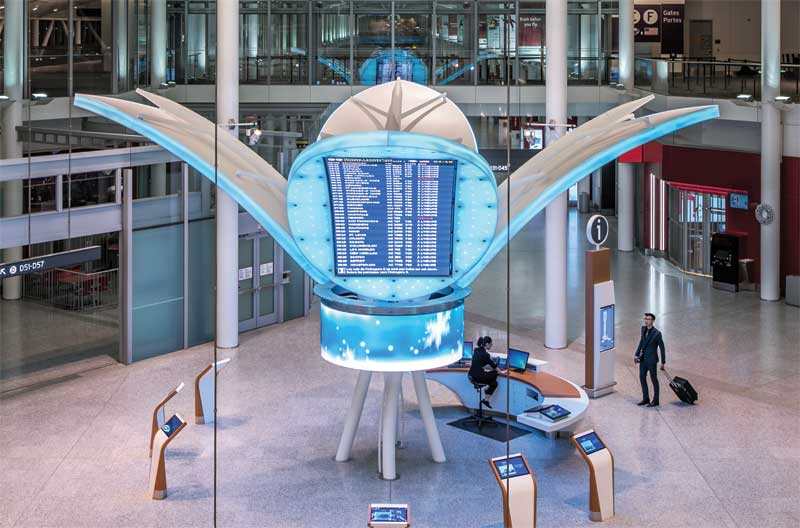 [1]Designer: Stantec
Manufacturer: Eventscape
Submitter: Elaine Allen-Milne
Client: Greater Toronto Airport Authority (GTAA)
Location: Toronto
Materials/Methods: In Terminal 1 of Toronto's Pearson International Airport, this 7.6-m (25-ft) tall steel sculptural flower structure boasts four 'petals,' each of which holds a 3.7 x 1.5-m (12 x 5-ft) liquid crystal display (LCD), showing flight information. A light-emitting diode (LED) halo sign covers the two central connecting rings of the 'stems' and shows the current weather. Surrounding the sculpture is a circular information desk with integrated monitors, solid wood top, stainless steel accents and a curved steel supporting the cantilevered sections. A 3.7 x 0.6-m (12 x 2-ft) pylon, with an interactive touch screen, airport map and 0.6-m (2-ft) LED-backlit 'i' on top, was built with a structural steel metal frame, wood veneer, angled solid-surface finish and stainless steel bumper rail, all anchored to the structural slab below. Six similarly constructed self-serve kiosks surround the desk and sculpture.
Endnotes:
[Image]: https://www.signmedia.ca/wp-content/uploads/2017/05/gtaa1.jpg
Source URL: https://www.signmedia.ca/2017-national-sign-competition-digital-signage-winner/
---